What is COVID-19's effect on the environment?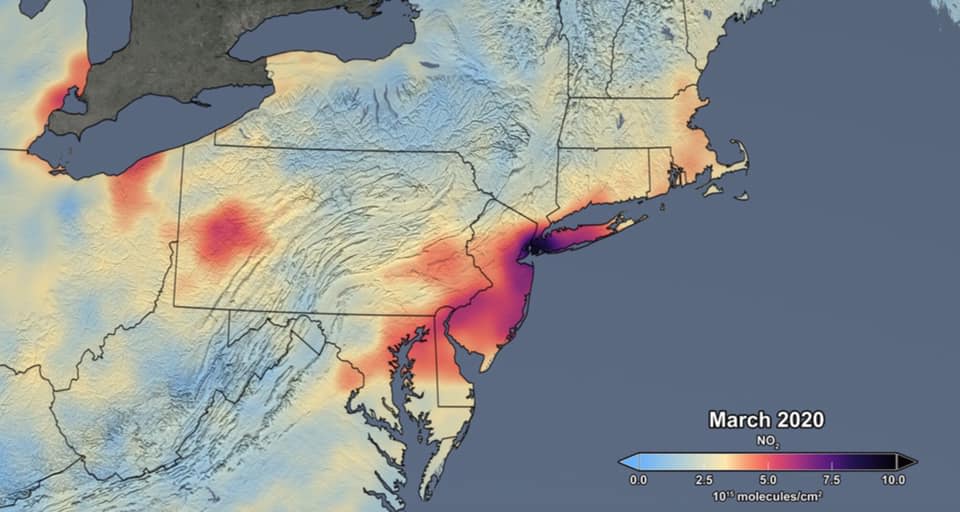 Hikers maintain social distance as they taken in the view at Griffith Park in Los Angeles. SoCal has seen excellent air quality recently, resulting from business closures during the coronavirus pandemic.
Let me begin by saying that the both the health and economic impacts of the coronavirus pandemic have been nothing short of catastrophic, and will change the lives of almost everyone for a prolonged period of time.
But we are a resilient people, and we will get through this. In the meantime, we are trying to take any positives that we can out of this dark and difficult period. And the environmental impact thus far has been just that.
With everyday life coming to an abrupt halt, our planet has been given a chance to breathe. In an effort to contain the spread of the pandemic, many factories have been shuttered. Planes sit idly on runways as travelers cancel flights and airlines slash service. More and more of us are working from home, cutting traffic to a bare minimum.
The above images show a stark decrease in Tri-state air pollution since the coronavirus pandemic began. With many working from home and businesses closing, our air quality is the best it has been in years. Images courtesy of NASA. 
The global shutdown caused by the virus has inadvertently become the biggest experiment ever in the reduction of greenhouse gases. Many environmentalists see this as an opportunity to make significant strides in preventing serious outcomes from climate change.
People have taken some pretty drastic measures in recent weeks given the situation at hand. While these changes have been extreme, they show that the world has the ability to make adjustments - adjustments that can help to limit negative effects on our climate.
It also shows that, perhaps, humans are capable of understanding the threat of something that cannot be seen.
The hope of many climatologists is that if even half of the population continues parts of this energy-friendly quarantine lifestyle once everything reverts to normal - teleworking, consolidating trips, limiting food waste - that we could see measurable, positive results.
Times Square, one of the busiest places in the world, deserted during rush hour. New York City remains the hardest hit in the United States during the coronavirus outbreak.
But not everyone seems bent on using this crisis to better the environment.
Recently, the Environmental Protection Agency announced significantly relaxed pollution regulations, citing coronavirus hardships.
In short, facilities such as plants and factories can now indefinitely determine their own ability to meet legal requirements on reporting air and water contaminants.
In a statement issued by the agency, it says it will not issue fines for certain violations during this time "in situations where the E.P.A. agrees that COVID-19 was the cause of the noncompliance and the entity provides supporting documentation to the E.P.A. upon request."
The move has been met with strongly mixed views. While some view it as straightforward and sensible, many environmental groups have criticized the move, calling it unprecedented.
No matter which side you fall on, it's hard to argue that this industrial pause has put a smile on Mother Nature's face. Will our new habits continue when life returns to normal? While it's unlikely they completely will, if we can even carryover even a fraction, the world will be a whole lot better for it.
Keep in mind, that even though we are not seeing swift, large scale impacts to human health from climate change like we are from COVID-19, we are seeing swift, large scale impacts to the Earth's hea
lth. And there is widely accepted science that if we continue on our current trends, it could one day translate to human healt