Winter in May? Trace of snow, bitter cold temps hit NYC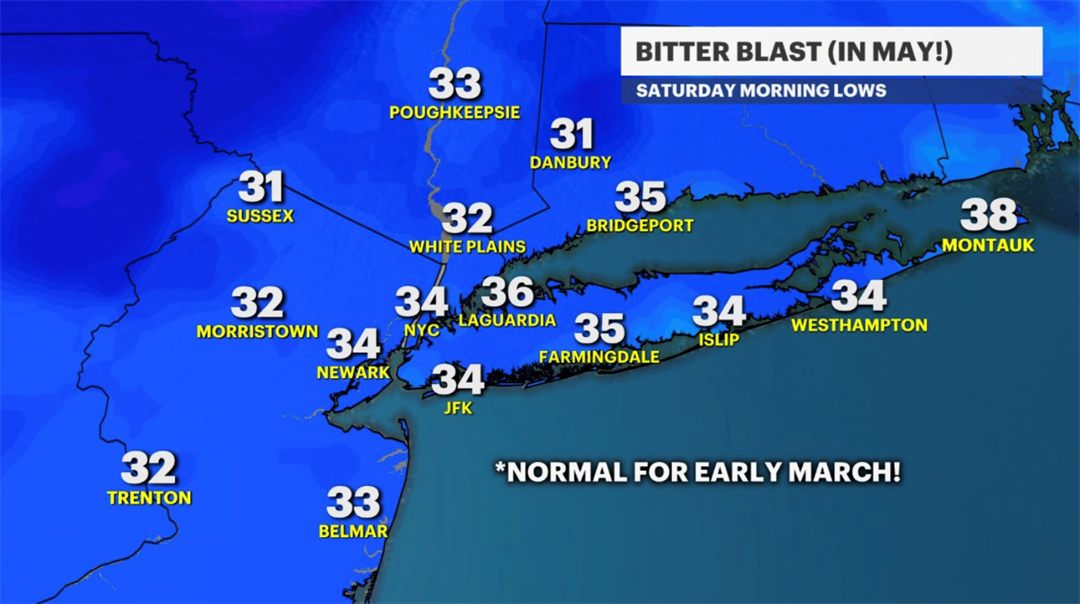 April showers bring... May snow? Guess so! 
New Yorkers are in for some weather whiplash this week after waking up to bitterly cold temperatures Saturday morning. Lows Saturday morning were around 34 degrees; normal lows for this time of year are closer to around 48 degrees.
We also got a dash of snowfall overnight. The National Weather Service says a trace of snow was recorded in Central Park.
News 12 meteorologists say Saturday's sunny morning skies are mixing with clouds by lunchtime. There's a chance of a stray rain or snow shower during the afternoon. It's windy and cold, with morning wind chills in the 20s, and afternoon wind chills making it feel like the 30s.
Highs for the day are a brisk 50 degrees. But it'll feel a bit chillier with sustained northwest winds 15 to 30 mph, with gusts as high as 45 mph.
After this frigid day, things slowly get better, starting for Mother's Day on Sunday,  as we will be back near 60 degrees. It will remain a bit breezy, however.
Stay with News 12 for the latest weather information.