Anthony Carlo's Notes for Trial Day 12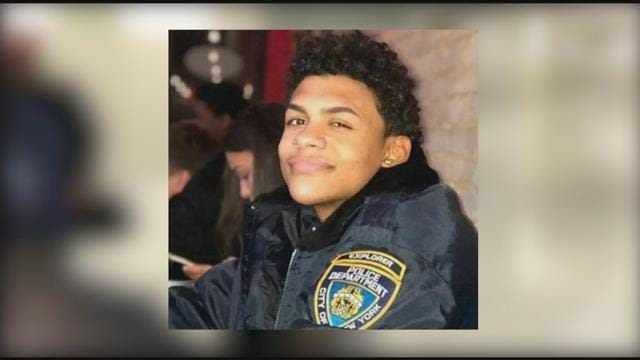 JUNIOR TRIAL DAY 12: MICHAEL "SOSA" REYES TESTIFIES
Genesis Collado-Feliz, Junior's sister, attended trial for the first time, Friday to see gang member Michael "Sosa" Reyes take the stand against five of his alleged fellow Trinitarios who are charged with first degree murder in her brother's death.
Reyes, 20 years old, says through an interpreter that he joined the Bad Boys set of the Trinitarios at 16.The Bad Boys had a problem with the Sunset chapter of the Trinitarios in June of 2018, according to Reyes' testimony.
"We had a war with Sunset," Reyes testified. Flaco Loco and Megadivo, also known as Ronald Urena, left Sunset to join the Bad Boys, without permission. This created a problem, according to Reyes, because another Sunset member had gone to prison for Loco and Urena, so when he came out of jail and found out they had switched sides, he was upset.
It was June 20th, the day of Junior's death, and Reyes was at a baseball field with Philly (Danilo Payamps Pacheco), Paisa (Gabriel Ramirez Concepcion), Luis Cabrera-Santos, Megadivo (Urena), Flaco Loco and other members of the Bad Boys.
Reyes drove his white Acura to Diego Suero's home at around 10 pm. "He was the leader of the Sures," Reyes testified. Colita, or Frederick Then, was the other Sure leader present in front of the home. Reyes knew Manuel (Manuel Rivers), Diente (Jose Muniz, who also goes by Canelito and Risa), Huerfanito (Antonio Santiago), Flaco Patria (Jose Tavrez), Colita (Frederick Then) and Diego, according to his testimony.
There were also other gang members there he had never met before. Diego said, "let's talk," to all the gang members as they circled up, Reyes testified. "Go after Sunset, you already know what you have to do," Suero said to the group according to the testimony. "Flaco Loco has told us to use the 1090 code to identify ourselves," Reyes testified regarding the meeting.
Reyes testifies on the order Suero gave to find Sunsets saying, "In my thinking I said that was an order to do any kind of damage, for example if you have a gun you shoot, if you have a knife you stab, if you have a machete you use the machete…"
Reyes says the group headed out. He went to his car along with Philly. Three other cars prepared to leave Suero's home as well. Reyes testifies that three of the four cars are Bad Boys and one was Los Sures. Paisa was driving a Bad Boys car as well as Luis.
The cars headed to Little Italy, known as Sunset territory. Reyes testifies that the brigade noticed Junior "walking, looking down at his phone." Reyes says his windows were rolled half way down, enough for him to hear the Los Sure car yell out "Sunset, Popo."
"He raised his hand and answered the 7," Reyes testified – not clarifying what that meant. "Then everything happened so fast, all I heard was, 'oh shit,' and he started running."
Reyes says the foot and vehicle pursuit began. "He blocked him in front of the hospital for him not to be able to go in the hospital," Reyes testified on Kevin Alvarez's efforts to stop Junior.
"I saw him running towards my car, I said 'Philly, get out of the car and grab him, but he didn't grab him," Reyes said.
Philly exited the car, tries to grab Junior, but can't. "The kid was running too fast," Reyes testified before saying he drove to the bodega.
"I thought the guy we were following was Sunset," Reyes testified. Reyes says he was not armed but noticed a weapon on Estrella.
Reyes goes into the bodega: "I lied saying that he had done something to my grandma," he explains what he was telling employees with the hopes they'd let the gang at Junior.
This all while Junior was behind the bodega counter hiding. "No, no, no…he was scared," Reyes describes what Junior was saying.
"At that moment, I saw Junior's face…I saw him scared and he reminded me of a person I had seen recently," Reyes testifies. Genesis, Junior's sister, later confirms during an interview that both she and Junior had met Reyes before on at least two occasions.
"When I saw his face, my attitude changed," Reyes testifies on why he walked out of the bodega. The next time Reyes sees Junior is when they drag him out. "He was fighting for his life," Reyes said as video showed that he watched from the middle of the street.
Reyes says the effect of seeing what happened to Junior was, "very bad."
"I see Diente (Muniz) pulling him, grabbing him, and with his other hand attacking him with the machete," Reyes testified.
Reyes testifies that he sees all five defendants around Junior's body with knives.
"I'm in the middle of the street looking back and I ran to my car."
Reyes testifies that when he exited the bodega he told the gang members outside, "take the guys out of there they have cameras," referring to Fernandez and Alvarez who were still inside. Reyes says Muniz, Estrella and Fernandez all get in his vehicle serving as a getaway car.
"He's not going to eat for a good long time because I hit him in the neck," Estrella says while sitting in the car behind Reyes who was driving according to the Reyes testimony.
Reyes says Muniz warned him not to speed because if cops stopped the car, he would be responsible for the machete. "If the police stop us, no one could talk because we know what would happen to us if we talk," Reyes describes how Muniz threatened everyone in the car.
Reyes identifies Paisa as Gabriel Ramirez Concepcion who was also driving a black Acura as a getaway car. Garcia is pictured getting into a gray car, which Reyes testified was being driven by Cabrera-Santos.
DA Dolan discusses Reyes' plea deal saying it was signed in open court in front of a judge. It is revealed Reyes pleaded guilty to Manslaughter in the first degree, agreeing to testify against the gang for the chance all charges would be dropped. If it is determined he does not truthfully fulfill is obligation, he could face up to 25 years in prison.
Reyes says as the gang got back to Suero's home, Estrella bragged to Suero about "getting him in the neck."
"This cocksucker cut my hand," Garcia says to Manuel Rivera, according to Reyes testimony, further corroborating what Kevin Alvarez had already testified – that Rivera accidentally stabbed Garcia in the hand during the attack on Junior.
"Diego said to go to a hospital far from the Bronx." Manuel was showing Reyes a picture of the Sunset gang. "He was sure the person in the photo was the person he got," Reyes testified talking about Rivera.
"I remained silent, I said to myself, that's not the one that he got," Reyes testified.
Reyes talks about how he fled to the Dominican Republic the day after the stabbing. "I got scared for everything that was happening, and for the simple fact that I was present for a murder…I was alone in my house with my woman…my mom wasn't there. I wanted to talk to her…I wanted to fly to Santo Domingo to explain what happened," he said.
Reyes says his mother convinced him to come back to the U.S. and face the consequences. "For my own good," Reyes testifies on why he returned to the 48th Precinct to turn himself in to cops.
Cross examination of Reyes will begin Monday.