Couple voices safety concerns amid parking dispute with neighbor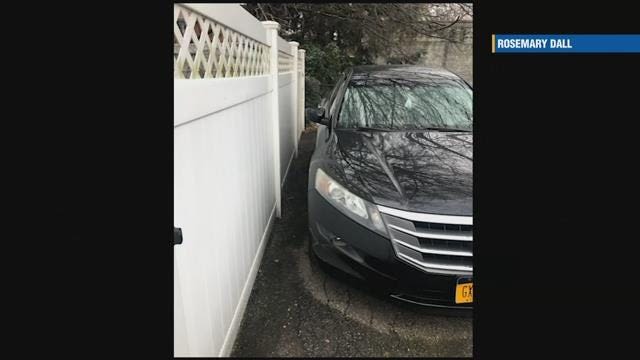 A Baychester couple says they have had issues with their neighbor ever since moving in, and now they fear for the safety of their 9-year-old son and puppy.
Rosemary and James Dall live on Fox Terrace, a tiny street off of Eastchester Road. They have had issues with their neighbor parking her car along their fence, and are worried about being struck by the vehicle as it pulls in or out from that space.
They say neighbors park in self-designated spots, and while they don't have a car, the neighbor parks in the spot along their fence.
The pair suspects marks left on the gate are from the tires of the car. The Dalls own the land, according to the Department of Finance.
The Dalls have contacted city agencies but say they have gotten the runaround. News 12 reached to the Department of Transportation, which said that this street is not in its jurisdiction. The Department of Buildings does not comment on property line disputes between neighbors.
The couple has repeatedly tried talking with their neighbor, to no avail. News 12 attempted to talk with the neighbor, but she was not home.
The Dalls say they are not giving up and will take legal action if necessary.