Detained immigrant pardoned by Gov. Cuomo reunites with family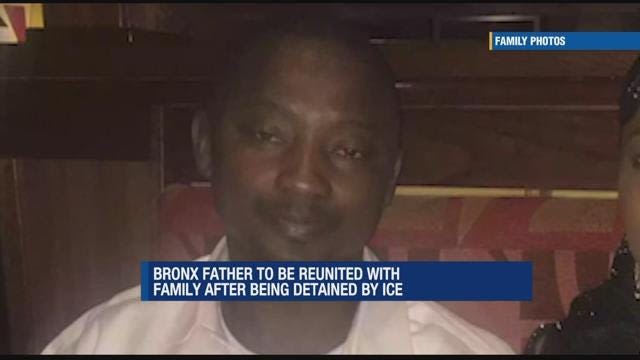 A Bronx father was released from an immigration detention center and reunited with his family Friday evening after being granted a pardon by Gov. Andrew Cuomo.
"I feel good, I feel so good," says Baba Sillah, a father of five who immigrated to the United States at the age of 22 when he fled Gambia. "I don't believe I am home because I never thought this would happen."
While a visitor in the United States, Sillah was repeatedly charged with low-level misdemeanors and violations due to selling clothes and supplies without a license. However, he eventually obtained work authorization and began paying taxes.
Sillah is married to a U.S. citizen and has worked as a porter and doorman for more than a decade.

"He is a very good guy. He is a good father, good husband, good friend, he is very caring," says his wife, Mamou Drame.
The undocumented immigrant has been attending routine Immigration and Customs Enforcement appointments for the past 17 years. Back in January, however, he was detained.
Gov. Cuomo has since issued the pardon and stated that, "Mr. Baba Sillah's detention by ICE threatened to take him from his wife and five children and was a profound injustice that undermined everything we believe in this country."
The pardon enables Sillah to remain in the U.S. while his permanent residency application is processed. Sillah can apply for a waiver of inadmissibility to prevent his removal once and for all, as he pursues naturalization through his wife.