Gov. Cuomo says he will make 'reopening' plan announcement with other governors later today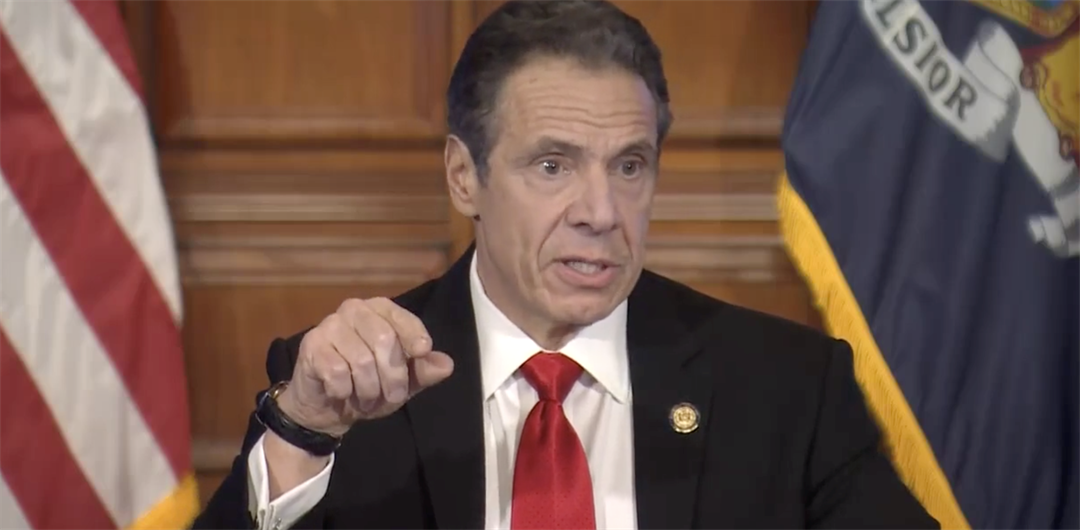 BRIEFING NOTES
•Gov. Cuomo: "It appears we have a plateau" when talking about the curve of cases.  "That is good news."
•Hospitalizations, in terms of 'net,' is down. 
•When talking about spread of COVID-19 to other areas of the state, governor says 'it's like a fire going through dry grass.'  Says it is as if the wind is spreading a fire through other parts of state. 
•Number of new COVID hospitalizations are down.  Hospital population is still very high, but the number of new cases daily are down. 
•"The worst news I've had to deliver to people of this state as governor of New York." 671 new deaths on April 12, total now 10,056.  Governor says for perspective, 2,753 people died at the World Trade Center on 9/11. 195,031 cases total now in the state. 
•Gov. Cuomo says NY is impacted greatly due to density in parts of the state. 
•Governor outlines potential steps for a 'reopening' of parts of the state.  Talks about opening the valve but watching for impacts closely, namely the infection rate.  
•"I'm not interested in political opinions." Governor said he is only interested in health experts.  
•Governor says he will be joining governors from other states to make an announcement on a coordinated 'reopening' plan. 
•Gov. Cuomo says there is no on/off switch, will not be all or nothing on reopening, it will be 'incremental.'
•Governors says, in his opinion, the worst is over if residents remain smart and vigilant. 
•Gov. Cuomo says we are still 12-18 months away from a vaccine.  That is when the 'deep breath' moment will come, when it is over.  
Earlier this morning Gov. Cuomo also appeared on 'The Howard Stern Show.'  Here are some notes from that appearance
On if he's sleeping and getting rest …
Who could sleep I the middle of this? Your mind doesn't turn off. You know that people are dying every hour in the state. Your job and every instinct is to make sure you can do everything you can do.
On ultimate end to this …
I don't think ultimate resolution will happen until there is a vaccine and that's 18 months.
On Trump …
I do talk to him when I need to talk to him which is at least several times a week. There has been no governor in the nation who has fought as much with Trump as I have. We are both New Yorkers and speak our mind and agree to disagree. I said from the get-go this is not about politics and personalities, we have to be better than that for the jobs we do. I put my hand out for the partnership to work with you. Since then he has been good in delivering for New York. [references Army Corp of engineers. navy ship comfort.] He has delivered for New York.
On access to Trump …
It has been amazingly simple and he has been amazingly accessible.
On speaking to therapist – he doesn't …
Who's going to help you with the problem that 700 people died yesterday? No one.
On personal down time...
I have watched excerpts of Tiger King because I have my daughters here.
On outlook and family...
We are going to get through this. That is the god's honest truth. We're going to get through this in phases. There is no light switch here where you go from darkness to light. We will get through it. It is hard and acknowledge it's hard. We're scared.
I'm frightened for my mother; I'm frightened for my brother.
He's 50 years old but he's like Superman. The day he was diagnosed he went on air that night from his basement. That's guts. When you get this, there is a part of you who goes maybe I'm the 1 of 100. That day he went on air. That showed me something.
On if he has cried during this …
I can't get over the death numbers every day. I can't rationalize it. There is nothing that abates that pain.
PHOTOS: World copes with the spread of coronavirus: