Gov. Cuomo: NYC faces 'complications' heading toward Phase 3, including lack of social distancing compliance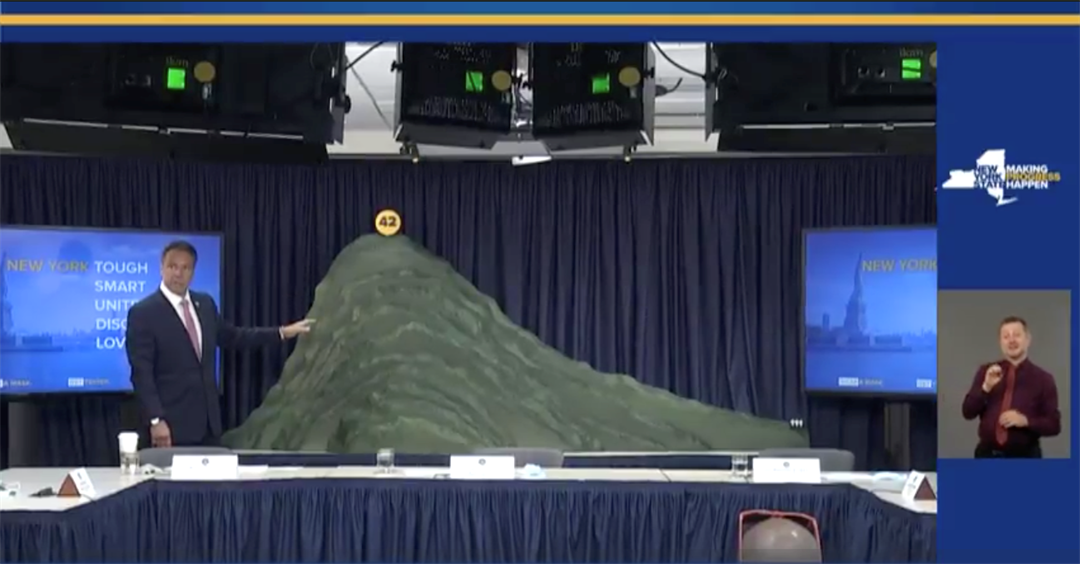 Gov. Andrew Cuomo said Monday that New York City faces "complications" as it heads toward Phase 3 of its reopening expected in one week's time.
The governor cited a lack of compliance with social distancing in the city, along with spiking cases in other U.S. states. He noted that New York City is a hub, and said if the virus isn't controlled elsewhere, a spike in cases could be seen in New York.
The governor also appealed directly to President Donald Trump and his administration to take steps to control the virus. He cited a failure of leadership, and called on the president to issue an executive order requiring Americans to wear masks in public.
Gov. Cuomo says New York continues to see positive COVID-19 numbers, including the lowest hospitalization total and the lowest three-day average of daily death tolls since the crisis started. New York saw eight deaths in the past 24 hours, he said.
BRIEFING NOTES:
-Cuomo accuses the White House of being in denial about the virus. He notes that the rate of infection is worsening in many U.S. states. "It's time to wake up, America," he says.
-The governor notes that the U.S. now trails Europe in its response to the virus. He says reopening the economy too quickly is not good, because when cases spike the market goes down, contributing to volatility and instability.
-The governor says the projected US death rate has just increased because of the response.
-"The president has been pressuring states to reopen too quickly," Cuomo alleges. "They never believed it was a problem, so they didn't believe they needed to solve it," Cuomo says of the federal government.
-Cuomo says NY has lowest level of hospitalizations since 'this nightmare' began with 853. He says New York saw 8 deaths within the past 24 hours. He notes that at one point the state had nearly 800 deaths per day.
-Gov. Cuomo says 13 COVID cases are linked to a graduation in Westchester County. He says the state has an "elaborate" contact tracing system in place to trace back the cases that arise.
-"In New York City, we have complications that we are studying now," Cuomo says. The city is in Phase 2 and it should be in Phase 3 next Monday, but Cuomo says 'there are issues that we have to think through'.  He cites lack of compliance in social distancing in NYC, and says it can be seen in pictures, etc. on social media. He says it's "undeniable" and adds that local governments must enforce local compliance.
-The second complication is the spread across the nation of COVID cases in other states. "People from the other states travel to New York, and New York is a hub," Cuomo says, noting that if other states have high infection rates, the probability is that we could see cases rise in New York.
-The governor says indoor dining has been shown to be problematic for spreading the virus, while "outdoor dining has worked very well." The state will review the data and consult with stakeholders in NYC about indoor dining. A final decision will be made by Wednesday, Gov. Cuomo says. 
-The governor says the MTV VMAs will be held at Barclays Center on Aug. 31. He says certain HEPA filters have been studied to be shown to filter out the COVID virus. He says any malls that will open in NY, the state will make it mandatory that they have air filtration systems that can filter out the COVID virus. The systems must have a certain rating to "filter out and catch" the COVID virus.
-"The state recommends for all businesses and offices to explore the potential for their air system... adding a filter than can filter out the COVID virus," Cuomo says.
-The governor spoke about dangerous and illegal fireworks. "Some nights in NYC it sounds like the wild west with all the fireworks going off," he said, calling it "disturbing... and dangerous." He says the state police will start a fireworks prevention detail that will attempt to stop fireworks from coming into the state in the first place. He says they mostly come to New York from Pennsylvania.
-The governor addressed President Trump directly, calling on him and his administration to "start telling the truth" about how large of a problem the virus is, and how "real a threat" it is. He called on President Trump to sign an executive order requiring Americans to wear a mask in public.
-The governor displayed a Styrofoam mountain that he said illustrates New Yorkers' progress and actions in flattening the curve. He joked that he'd sculpted the mountain in his garage.
PHOTOS: COVID-19 impacts the world