Gov. Cuomo signs 'Red Flag' gun control bill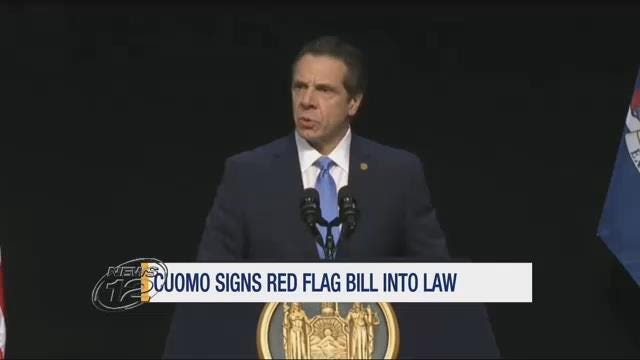 Gov. Andrew Cuomo signed the "Red Flag" gun control bill into law Monday morning at John Jay College in Manhattan.
New York now becomes the first in the nation to allow teachers and school officials to seek orders to remove guns from people who are a threat to themselves or others.
The new law is meant to prevent people who show signs of being a threat to themselves or others from purchasing or possessing firearms.
While 13 states and Washington, D.C. have enacted similar laws, New York's is different because teachers and school officials can seek the order.

"Parkland would have never happened and my son would still be alive if Parkland had the red flag law on Feb. 13, 2018," says Linda Beigel, mother of Parkland teacher Scott Beigel.
The new law, which takes effect in about six months, is the latest bill signed by Cuomo.  In 2013, he signed the SAFE Act, which expanded background checks, and banned assault weapons.
According to the Centers for Disease Control and Prevention, there were nearly 40,000 deaths caused by guns last year.
Joining Gov. Cuomo on stage was House Speaker Nancy Pelosi, who is now urging Congress to pass a red flag bill on the federal level.
"This gun violence issue is a national health epidemic in our country. And Mr. President, if you want to talk about emergencies, this is an emergency," she said.