Hospital implements protocol to slash number of deep vein blood clots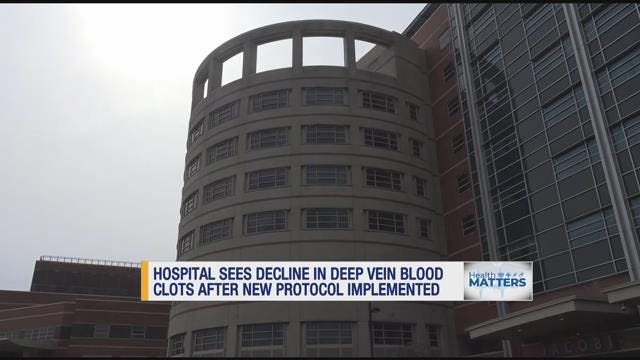 New protocol implemented by NYC Health + Hospitals/Jacobi has reduced its number of deep vein blood clot cases by over 50 percent.
Deep vein thrombosis, or DVT, is when a blood clot forms in a deep vein – usually in the leg. A few years ago, the number of DVT cases at NYC Health + Hospitals/Jacobi was almost two times the national rate.
Jacobi had 13 cases when the new protocol was implemented in 2015. Three years later, it's down to four cases.
"It's satisfying to have an effect, however I realize this is an ongoing process, an ongoing battle," says Dr. John McNelis, chairman of surgery. "If we don't stay on top of this, we can slip back next month."
And there are a number of ways a blood clot can form. A common way it can develop is after surgery when a patient is usually laying down for longer periods of time, which means slower blood flow, and that's the group that this hospital focused on in the study.

Two big guidelines the protocol follows are assessing how high risk a patient is post-surgery and giving medication beforehand as a preventative measure.
If left untreated, the deep vein clots can be deadly.
Denise Thompson had her gallbladder removed at Jacobi Thursday. She's had four DVT incidents in the past. They weren't post-surgery, but she is a cancer survivor and is considered a high-risk patient. The DVT protocol was applied to her, and she's happy to be part of a study to help future patients.
"They will get better care, they will get taken care of properly and the doctors will make sure they're well by the time they leave," says Thompson.