'I'm a prisoner:' Tenants claim elevator service down at Concourse Village apartments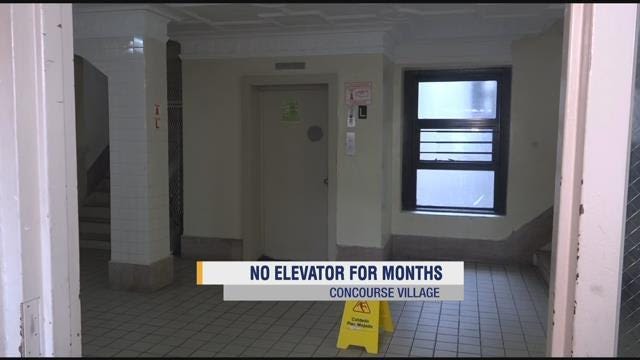 Tenants at an apartment building in Concourse Village claim the elevator service has been out of order for months.
"I'm a prisoner," says 79-year-old tenant Annie Bernice Dicks.
Dicks, who is disabled, says she spends most of her days in her bedroom and has to be carried down five flights of stairs three days a week by ambulette workers for her scheduled dialysis appointments.
Families at 1106 Morris Ave. say the elevator has been out of service since September, leaving some tenants unable to get down the stairs.
Another tenant, Lyndra Brown, says she's in searing pain every time she has to take the stairs to her fourth-floor apartment because she's had two hip replacement surgeries within the past several months.
Tenants also complained about the building's lack of heat and running water. The building is listed on the city's Department of Housing Preservation's website.
Brown says her bedroom radiator leaks hot water.
News 12 reached out to the Belmont Arthur Avenue Local Development Corporation, which manages the building, for response.