Junior Trial Notes: May 20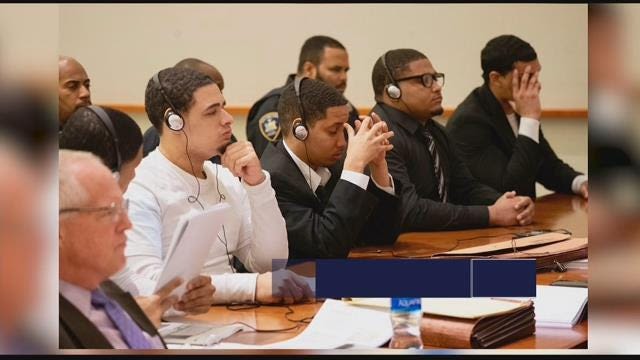 KEVIN ALVAREZ WITNESS TESTIMONY:
Kevin Alvarez was captured on surveillance cameras inside the bodega, kicking and punching Lesandro "Junior" Guzman-Feliz while he was on the ground the night of June 20, 2018.
Alvarez surrendered himself to police last June after surveillance video of him and Danel Fernandez dragging Junior out of the bodega to his death started circulating the internet.
Alvarez delivered groundbreaking witness testimony against the five men who are on trial, facing possible conviction of first-degree murder charges, Monday. These five defendants, Jose Muniz, Elvin Garcia, Jonaiki Martinez-Estrella, Manuel Rivera and Antonio Rodriguez Hernandez Santiago were all waiting outside of the bodega once Alvarez helped drag Junior out.
Prosecutors say those five defendants were captured on camera rushing Junior with knives and a machete.
Alvarez started his testimony revealing that he worked at McDonald's, in construction, for an ophthalmologist and served in the Army after leaving Bronx Community College where he was majoring in criminal justice.
The 20-year-old was private second-class and was discharged from the Army after aggravating an injury. Alvarez says he started hanging out with the Trinitarios in February of last year. A close friend of his would bring him to parties with the gang and Alvarez says he found it "kind of cool."
Alvarez testified that he was aware the Trinitarios were a gang and that they were involved in violence. Alvarez says he started officially making an effort to join the gang a couple of weeks after starting to hangout with them.
He says he was made aware of "missions" he might have to go on as a member of the Trinitarios before he became a probationary member. Alvarez testified on the "cabinet" of the Trinitarios, telling the jury that the leaders at the time of Junior's death were Diego Suero, also known as "Psycho",Colita also known as Frederick Then, and Stacks, whose real name has not yet been revealed.
The two disciplinarians under the three leaders were Kikitoh and Telemundo. The two security officers under them were Cucilla and Marty. Alvarez spoke to the gang's "soldiers" and cabinet before joining. The whole network of Trinitarios make up what the gang calls "the town."
Alvarez says, "I was made aware that sometimes you would have to jump people, stab people," as a member of the gang. He also testified that he was aware his membership could result in him going to jail, but he assured the gang's leaders that he was willing to do whatever the gang asked of him.  Alvarez testified that Kikitoh made him aware of the disciplines members could face if they don't follow orders.
Alvarez had been a member of the Los Sures set of the Trinitarios for four months when June 20 rolled around.
On Monday, Alvarez identified each of the five defendants as members of the Los Sures: Jose Muniz, or Canelito or Diente (cinnamon or teeth), Jonaiki Martinez-Estrella or Pio (Tweet or Chirp), Manuel Rivera or Relambio, Antonio Rodriguez Hernandez Santiago or Huerfanito (Orphan Boy) and Elvin Garcia or Rabia (Rage or Wrath).
Alvarez testified Estrella was on probation to get into the gang, Muniz was a first soldier, Rivera was a second soldier, Santiago was a first soldier and Garcia was a first soldier.
Alvarez says disciplines usually consist of getting hit in the ribs multiple times. Alvarez described several "missions" he had been on for the gang before the night of Junior's death, saying he was never given the order to kill anyone. He was, however, ordered to give someone a "physical" or beating involving two other attackers.
On the night of June 20, Alvarez says he was leaving a girl's apartment and headed to a barbecue on 167 Street where some of his Trinitarios cohorts were hanging out.  Alvarez says he spotted Muniz, Estrella and Santiago.
"The chapter was looking for Sunsets the whole day," Alvarez said. The Los Sures were on a mission to extinguish their rival set.
"We were supposed to go to 183 Street and Crescent to see a guy who was supposed to be Sunset there," he said. Alvarez disclosed that Cucilla provided the order via messaging app Whatsapp, the Los Sures main way of communication.
Alvarez says he went to the location with Danel Fernandez, Santiago, Estrella, Muniz and Olie Fernandez but could not find any Sunset members. That's when Alvarez says he got a call from Frederick Then or Colita, the second leader in charge, to meet at Diego Suero's home on Boston Road. Suero was first in command.
Alvarez says he drove his mother's gray Acura TL to Suero's home to link up with the rest of the Los Sures. The Bad Boys Set of the Trinitarios also joined the Sures at Suero's home, according to Alvarez's testimony.
Alvarez recalled one incident of violence that had happened before the night of June 20 between rival chapters Sunset and Bad Boys saying, "A Sunset member shot a Bad Boys member in the head or eye…the guy that got shot used to be a Sures member."
Alvarez says the cabinet informed the Sures and Bad Boys that the gang was having problems with Sunset, saying [they] "had to do whatever possible to hunt the Sunset…"
The Los Sures and Bad Boys were instructed by Suero to carry weapons and be ready to attack Sunset members if they should see them. "He said we were to get in our cars and go to where the Sunsets hangout or are known to be…and do what we have to do," Alvarez testified.
Alvarez says all of the first-degree murder defendants were present when the orders were given out in front of Suero's home. Alvarez says four cars full of gang members headed out for the hunt. He was driving the only Los Sures car. The other three were full of Bad Boys.
Alvarez says Colita or Frederick Then was sitting in his passenger's seat. Danel Fernandez, Jose Tavarez AKA Flacco Patria and Santiago were in the back. The cars stopped to get gas on Third Avenue and then headed to Little Italy or Belmont, what is known as Sunset Territory. Alvarez testified Santigo, or Huerfanito, informed the gang that's where Sunsets hangout.
"The reason he knew where they hangout is because he used to be a member of the Sunsets before he was a Sure," Alvarez said.
Alvarez testified that the gang members in his car rolled down the windows when they saw Junior walking down a Belmont street, calling out "Popo," a Trinitarios saying.
"The kid just looked up. At that moment people started stepping out of their vehicles," Alvarez said on the stand. Junior was just walking while looking at his phone, according to the testimony.
Alvarez says Santiago and Tavarez approached Junior first and started asking him questions. Then came Estrella. Alvarez says they were asking Junior if he was Sunset. Alvarez says the gang members used a certain code to determine whether or not Junior was a Sunset.
If a Trinitarios member calls 1090, you are supposed to identify the set of the gang you belong to, Alvarez said. Junior did not respond. "He looked very surprised and scared and started running," Alvarez said.
"The only thing I heard him say is that he wasn't Sunset," Alvarez said on the stand.
Alvarez said Muniz made a gesture towards Junior as if he was going to hit him, and that's when Junior took off.
Alvarez says Then and Danel Fernandez got out of Alvarez's car and started chasing Junior while Alvarez began following the chase in his car. Alvarez admits he tried to block Junior's path near St. Barnabas Hospital, forcing Junior to turn and run down 183 Street toward the bodega.
Alvarez says he also got out of his car during the pursuit to try and snag Junior as he was running by. Alvarez says he drove down towards the bodega, parking his car across the street. "I was told by Colita (Then) to go in the store and take the kid out of the store," Alvarez testified.
Alvarez said he, Michael "Sosa" Reyes and Danel "Menor" Fernandez entered the bodega to see Junior behind the counter trying to hide. Alvarez testified that he was talking to the bodega workers, "letting them know that I believed he was Sunset and he was part of the shooting that happened to Chino."
However, Alvarez told prosecutors Monday he had no direct knowledge that Junior was  a Sunset member, nor did he have any knowledge Junior was involved in a shooting of a fellow gang member.
"I thought they were chasing him because he was Sunset," Alvarez told the jury Monday talking about the gang members he pursued Junior with.
Junior was "saying no he is not Sunset and no he didn't do any of that," according to Alvarez. The group was ordered to take the fight outside by the bodega workers, Alvarez testified.
Alvarez says he was not armed and neither were "Sosa" or "Menor" far as he could see. Alvarez described his efforts to drag Junior out from behind the store counter.
The court broke for lunch at this point and when everyone returned, Jose Muniz was speaking loudly to Amy Attias, Santiago's lawyer, who appeared to be trying to calm him down.
Court officers surrounded Muniz and Judge Robert Neary gave him the option to stay or leave. Muniz chose to depart from court. Officers escorted him out in handcuffs and Neary announced that prior to his removal, Muniz appeared to try to stand up and leave the courtroom on his own.
Courtroom discussion between lawyers and the judge revealed that Muniz was upset about the lack of access to hard copies of evidence the DA has against him, like names of witnesses etc. Muniz felt denied a fair trial. The judge says inmates are routinely not allowed to bring "discovery" materials back to their prison.
The afternoon session resumed with Alvarez testifying on his efforts to remove Junior from the bodega. "I punched him in the face with a closed fist …a few times…face and body," he said.
Alvarez said Junior was crying out "stop" as he tried to fight back against Alvarez and Danel Fernandez. Prosecutors pull up an angle of bodega surveillance video that shows the scuffle inside. Alvarez starts crying after identifying himself on video. 
Alvarez says he kept pulling Junior out of the store even though Junior was trying to grasp onto anything he could get his hands on to avoid being removed from the store.
Alvarez says the first thing he sees once they're out of the store is Canelito or Muniz holding his machete above his head making downward motions with the blade. "I let go …cause at that point I got scared," Alvarez testified.
Alvarez says he saw Rabia, or Garcia, running up to Junior with a knife in his hand. 
"He grabs him by the top of the shirt, around his shirt and starts stabbing him," Alvarez says.  "He started stabbing him toward his torso, stomach area."
Alvarez says Muniz was hitting Junior on his body with the machete.
"He's screaming "stop"…'help," Alvarez said of Junior as he attempted to block his face. Alvarez says Rivera was "putting something in him," multiple times.
Alvarez gradually turns his body towards the jury during his testimony to avoid looking at the defendants. Alvarez says he started to run away from the scene, glancing back to see all of the defendants stabbing Junior at the same time.
"He was stabbing him with a huge knife he ran by me with," Alvarez says of Estrella, or Pio.
"I saw him standing over the kid stabbing him," Alvarez says of Santiago, or "Huerfanito."
Alvarez says only one person wearing a hoodie that night was Santiago. Alvarez identifies Santiago's mug shot and him in several still photos of surveillance video taken from the scene.
Alvarez does the same for all the other Murder 1 defendants, plus Then, Danel Fernandez and Tavarez.
Alvarez describes Estrella's weapon saying, "I observe a knife with blood on it."
Alvarez says he then drove some of the group back to Suero's home.
"Rabia came out the car bleeding with his hand," Alvarez said of Garcia AKA Rabia, revealing that Rivera had stabbed Garcia in the hand during the attack by accident.
"I saw it was a stab wound that went through one side of the hand to the other," Alvarez testified.
Alvarez says Then called Suero on the way back to Suero's home – asking Suero to call everyone involved in the attack to make sure they were alright.
After they got back to the home, Alvarez testified that he said to the group, "I hope you guys didn't kill him." After that, Alvarez says he walked to his car.