Meet the Met: Rich Hoffman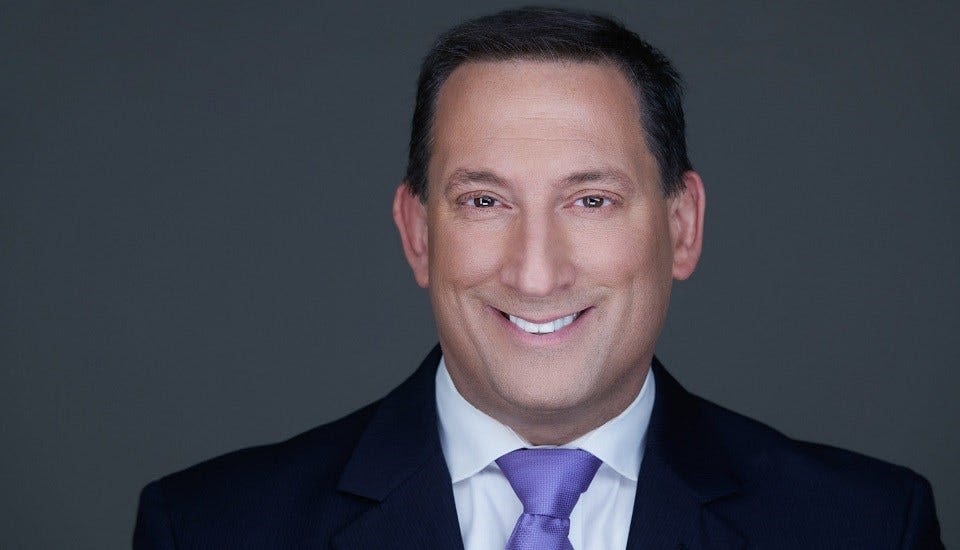 For 18 years, Rich Hoffman has been a prominent fixture on Long Island, helping you start your day with accurate hyperlocal forecasts and keeping us ahead of the storms. But is he ready for his biggest challenge yet - parenthood?
Geoff Bansen: Rich, thanks for taking a few minutes to sit with me today. Let's start with your strong bond with Long Island, and the South Shore in particular. Tell us about growing up there.
Rich Hoffman: I grew up in a few places, but all within the Town of Babylon. I Graduated from West Babylon High School. My favorite part of the Town was beaches, beaches, beaches! Some of the best around. Boogie boarding, surfing, they had it all. That was actually one of the things to get me into weather. All these years later, I am still playing beach volleyball at Cedar Beach.
G: You've partially answered my next question. What got you into weather, and was there any one moment where it sort of 'clicked' and you knew you wanted to have a career in it?
R:  As mentioned, one of the first things was the beach. I used to go every weekend with my family. Really it was being outdoors a lot in general, lots of sports too. The Town of Babylon also had very different weather from one side of town to the other. My friends and I would always talk about what was going on at each others houses. You could get something very different from the Great South Bay to North Babylon. As for any one event, there were a few notable ones. The Blizzard of '78 and Hurricane Gloria in 1985 were the big ones.
G: Of course you've been back on Long Island for quite some time now, but after high school you did a bit of traversing the northeast, right?
R: Yup. First I went to college at SUNY Albany and graduated with my degree in Atmospheric Science. From there I worked at two different TV stations in Albany. First as a producer at the CBS affiliate WRGB, and then a freelance on-camera opportunity at the NBC affiliate WNYT.
G:  When did you make your return to Long Island?
R: Well, I came back briefly to do a little radio and some other side jobs, but eventually left again for another New England journey.  First I went back upstate for my first full time weather job in Elmira. I was there for 14 months. I did just about everything there. The best part of working in a small market was so much hands on experience. It helped me for what was next, which was the ABC affiliate in Burlington, VT. I did weekend weather and midweek reporting. I also had my own science segment - it was called "Cutting Edge". After Burlington, I went south to start at the CBS affiliate WFSB in Hartford. The News director there was actually from Syosset. I think that was why she hired me! After that I did some freelance work at New England Cable News in Boston, followed by weekend weather at WGGB in Springfield Mass. There, I also was a webmaster during the week, designing the stations website. 
G:  So when did come back to Long Island for good?
R: One day in August 2002, I received a phone call in the morning from Houston, Texas regarding a weather gig. That same day in the afternoon I received another call from a Mr. Jim Whiteman (our current News Director at News 12 LI). After getting off the phone with him, I had a brief conversation with my family, and the consensus was "When are you moving to LI?" So the decision was made fairly quickly!
G: What has been the best part of doing the weather right smack in the middle of your home, much of it with the same supporting cast?
R: There are so many good things about it. Your family watching you everyday and commenting on your work. And then there's your other family. My work family which I sit next to every day. And of course the viewers, who are just like another family. Meeting so many people along the way, having different generations watching - " I grew up watching you and now my son/daughter does!" Things like that really put a smile on your face. Being here for a good chunk of time, it has been a true on-going relationship.
G: What's your favorite part of the job outside of being so local?
R: I think that has changed over the years. Presently, it is the education of the job. Talking about the science, talking about how things have changed - weather patterns, snowfall. I think earlier on in my career was the importance of alerting people about the weather, and potentially saving lives. Explaining to people that while the weather can be so beautiful, it can also be deadly.
G: Okay, you recently made the big announcement on social media that you are going to be a dad - congrats! What was the first thing that ran through your mind when you found out you were going to be a parent. 
R: There were many different things. Mainly excitement. In my head, I have always wanted to be a dad. Especially now that we are coming up on the anniversary of my heart surgery, being able to be around for this to happen is special. 
G: For those that aren't familiar, you had a heart valve transplant 8 years ago. But you came out on top. What positives were you able to take out of a difficult situation like that? 
R: My life has changed significantly since then. A little more risk, a little more adventure, but also a little kinder and a little more patience with things. I am sure my wife is appreciative of that! Telling a small joke, putting a smile on someone's face. There are many things that would not have happened without going through this experience. It really puts everything in perspective.
G: Alright, it's time for the lightning round! What's Rich Hoffman's perfect hyperlocal forecast?

R:  It has actually changed. It used to be snowstorms and blizzards, but now it's sunny and 75!

G: Favorite season?
R: Summer.

G: Most memorable weather event you've covered?
R: The big snow of Christmas of '02 actually comes to mind first, but the historic flooding of Sandy is right there as well. Christmas of '02 we had a few inches of rain at first, and then it switched over to snow, and boy did it snow!
G: Most fascinating weather phenomenon?
R: The formation of a hurricane. So many different components.
G: Chocolate or Vanilla?
R: Chocolate
G: I know your favorite holiday is Christmas, so second favorite holiday?

R: 4th of July.
G: What would the Rich Hoffman autobiography be titled?
R: I have no idea.
G: That sounds like a pretty good one!

<laughs>
R: How about "Keep Your Head Out of the Clouds."

G: Nice! Favorite food other than local pizza or bagels?
R: Chicken Parm.
G: What's the last song or artist on your music player of choice?
R: Lady Antebellum.
G: If you could be anything or anyone else for a day, what/who would it be?
R: A Fireman.
G: In one word, what is it like being a Mets and Bills fan?
R: Interesting.
G: Okay, well done! If people follow you on social media they probably know that you are a big-time boater. Other than that, what else do you like to do for fun?
R: Triathlons and marathons.
G: So no limitations or restrictions after your surgery?
R: Nope, so far so good. 10 months after my surgery, I actually ran a marathon!
G: What do you love most about our area, not only Long Island but being on the doorstep of New York City?
R: The close proximity to everything. Skiing a few hours away, about an hour train ride to the city, and of course our beaches.
G: What would you like to tell anyone who has watched you consistently over your career?
R: I am very grateful to the viewers who have let me into their homes and lives over the past 18 years. Thank you for letting me be able to share my love and passion of weather in my hometown. Thanks for being a part of the family, and sharing your honest critiques.