Mets' Cohen cautions spending doesn't mean title this year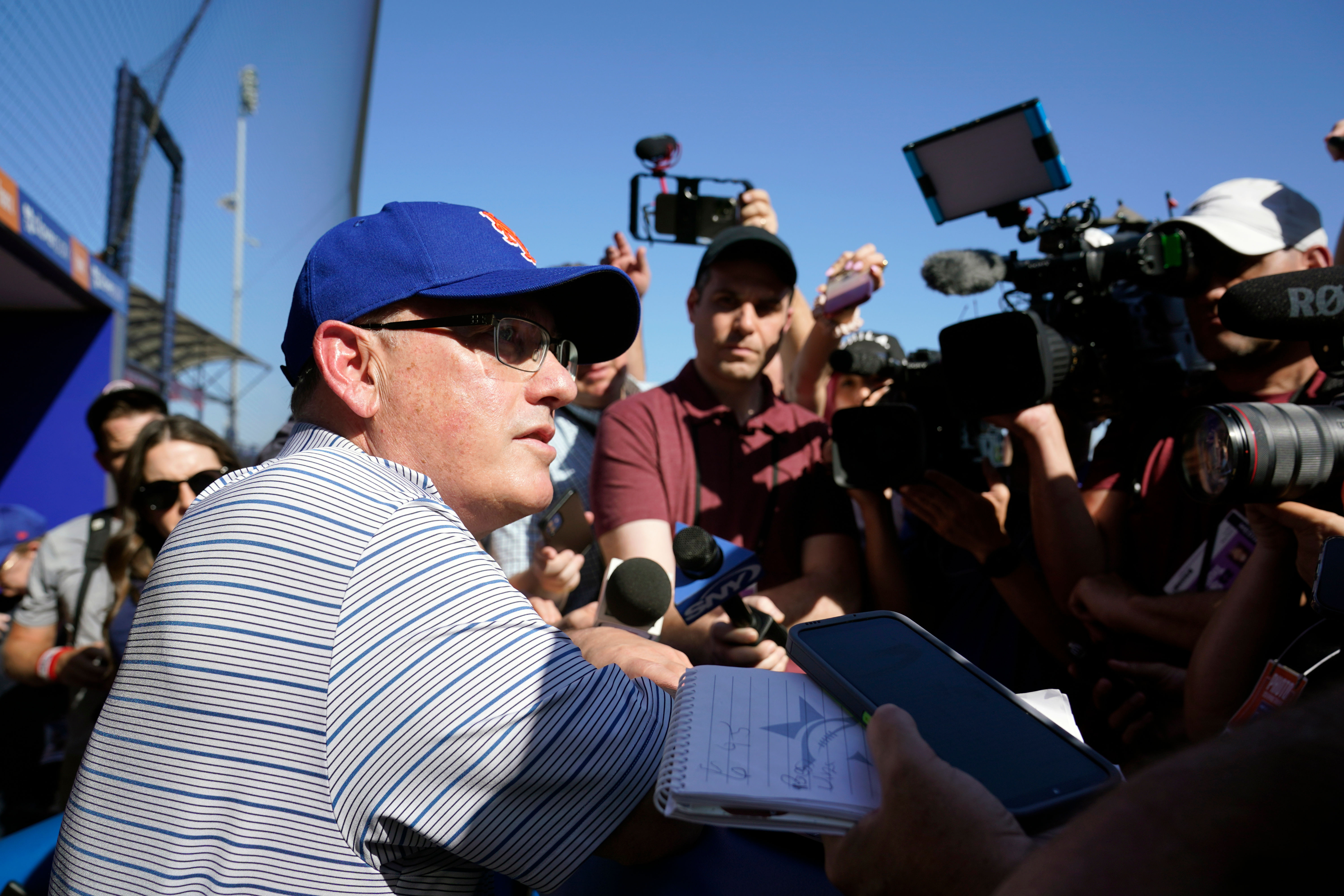 Mets owner Steve Cohen cautions the team's record spending won't necessarily lead to a World Series title this year.
"You know how hard it is to get to get into the World Series — as we saw last year, right?" Cohen said Monday at New York's spring training camp. "So the only thing you can do is put yourself in position where good things can happen. Got to make the playoffs. The team's got to be healthy. It's got to be rested. It's got to be raring to go. And then you let the chips fall where they may. And if you keep putting yourself there, one day we'll get there. Obviously, I'd love it sooner than later. But, you know, I can't control that."
New York won its only World Series titles in 1969 and 1986. The Mets won 101 games last year, second-most in franchise history but were unable to hold off Atlanta in the NL East after sitting atop the division for all but six days. The Mets were eliminated by San Diego in a three-game Wild Card Series.
New York raised its payroll to a projected $370 million and is set to shatter the record, set by the 2015 Los Angeles Dodgers at $291 million.
The Mets had a $146 million payroll in 2019, the last fully played season under the Wilpon and Katz families. New York boosted payroll to $199 million in 2021, the first season after Cohen bought the team, and $275 million last year, when the Mets led the major leagues in spending for the first time since 1989.
Cohen cited inflation as a factor in the offseason spending spree.
"All of the sudden we were looking at prices up 20, 30%," Cohen said. "That was a shocker to me, and certainly changed our plans, and I had to think differently. You know, $300 million, which is still a lot of money, didn't get us like it used to — what we could."
Cohen's Mets signed AL Cy Young Award winner Justin Verlander to a $86.7 millon, two-year contract, added pitchers Kodai Senga ($75 million for five years), José Quintana ($26 million for two years) and David Robertson ($10 million for one years), along with catcher Omar Narváez ($15 million for two years). New York also re-signed closer Edwin Díaz ($102 million for five years), outfielder Brandon Nimmo ($162 million for eight years), infielder Jeff McNeil ($50 million for four years) and reliever Adam Ottavino ($14.5 million for two years).
New York projects to have a luxury tax payroll of about $390 million, which would result in a tax of about $116 million. While negotiators for teams and players adopted a fourth tax threshold last year know as the "Cohen tax," the Mets owner has used his hedge-fund riches to keep spending. That has increased disparity in a sport that saw four teams finish last year with payrolls under $100 million.
"They've been dealing with that problem for a long time," Cohen said. "It's really hard for me to say how to solve that because I think it's a multi-variable problem. I think ultimately, I think the key for baseball is you need to grow revenues. And it can't be through constantly raising ticket prices. It's got to be getting more attendance, getting more interest in the game."
Cohen said some other owners told him at recent meetings they realized he was following the established rules. He doesn't believe the owner's new economic study group will formulate proposals specifically aimed at him.
"Absolutely not," Cohen said. "There's plenty of issues there. The media issues, as we know about, there are revenue issues, right? Attendance issues. So, you know, I say it again, I think it's great that the owners are getting together discuss all these issues."
With team president Sandy Alderson shifting to a special assistant role, Cohen intends a more of a day-to-day role in management.
Cohen expects improvement from the Mets farm system will cause less dependance on free agents, calling current behavior a "bridge" to the future.
"People have to be patient," Cohen said. "It's taking time. I see progress, and I'm encouraged what we're doing down in the lower part of the system. And from what I hear, we're developing pitchers, which I think is really important."