News 12 Networks win 16 New York Emmy awards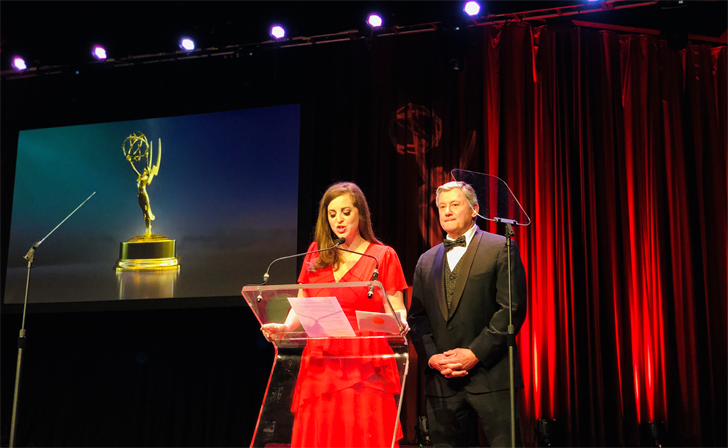 News 12 Networks were honored with 16 New York Emmy awards Saturday night, including for best sports news series, journalistic enterprise and more.
The National Academy of Television Arts and Sciences' New York chapter announced the winners at a ceremony at the Marriott Marquis in Times Square.
News 12 Long Island took home six Emmy Awards, and News 12's investigative reporter Tara Rosenblum was honored with eight awards as well.
News 12 is pleased to congratulate all of its honorees and nominees for their hard work! 

News 12 awards included:
Arts: News
Virginia Huie, Producer; Dave Garden, Photographer/Editor
"Gourd-geous Music"
Nov. 9, 2017
News 12 Long Island
View the Piece
Religion
Antoinette Biordi, Reporter; Anthony Florio, Photographer/Editor; Karen Fiorelli,
Producer; Charles Bucci, Graphic Artist
"Beyond The Broomstick"
Oct. 30, 2017
News 12 Long Island
View the Series
Societal Concerns: Program Feature/Segment
Tara Rosenblum, Producer; Alan Flamenhaft, Photographer; Jean Salzarulo, Field Producer; Lee Danuff, Interactive
"Slavery in Suburbia: Labor Trafficking"
May 2, 2018
News 12 Westchester
View the Piece
Sports: Single News Story
Marissa Alter, Reporter; Mark Sogofsky, Photographer; Andrew Hurley, Editor
"26"
Dec. 14, 2017
News 12 Connecticut
View the Piece
Sports: News Series
Kevin Maher, Reporter; Jamie Stuart, Reporter; Dave Dodds, Photographer/Editor; Anthony Sande, Photographer; Doug Cunningham, Photographer; Dan Scaturro, Editor; Gregory Stevens, Graphic Artist
"Game On - The eSports Craze"
Aug. 22, 2018
News 12 Long Island
View the Series
Journalistic Enterprise
Tara Rosenblum
Sept. 14, 2017
News 12 Westchester
Craft Specialty: Research
Tara Rosenblum, Jean Salzarulo
April 30, 2018
News 12 Westchester
Talent: Anchor - Weather
Mike Rizzo
News 12 The Bronx
Talent: Anchor - Sports
Kevin Maher
News 12 Long Island
Talent: Reporter - Features/Human Interest
Jamie Stuart
July 15, 2018
News 12 Long Island
and
Tara Rosenblum
April 25, 2018
News 12 Westchester
Talent: Reporter - Investigative
Tara Rosenblum
Jan. 11, 2018
News 12 Westchester
Talent: Reporter - Specialty Assignment
Tara Rosenblum
May 3, 2018
News 12 Westchester
Talent: Reporter - Consumer
Tara Rosenblum
Sept. 14, 2017
News 12 Westchester
Talent: Reporter - Sports
Kevin Maher
News 12 Long Island
Writer: News
Tara Rosenblum, Scott McGee
April 25, 2018
News 12 Westchester