NJ man arrested at St. Patrick's Cathedral has ties to Bronx, Brooklyn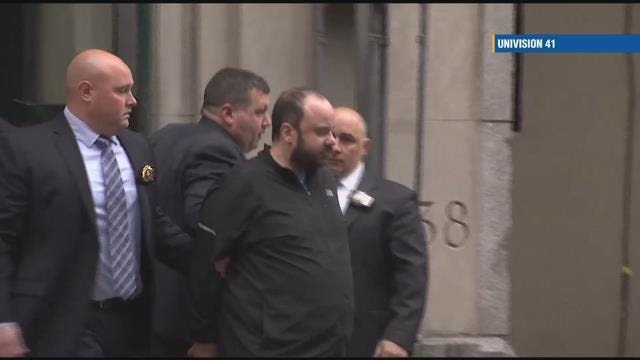 A New Jersey man with ties to the Bronx has been charged after he tried to get into St. Patrick's Cathedral with gas cans, lighter fluid and lighters.
Marc Lamparello, 37, is facing attempted arson, reckless endangerment and trespassing charges for the incident Wednesday night in Manhattan. His arrest comes just days after the fire at Notre Dame Cathedral in Paris.
Lamparello was an online instructor at Lehman College in the Bronx and was assigned to teach a course at Brooklyn College.
He was listed as an adjunct lecturer on the Lehman College website, but that has since been taken down. The college released a statement reading in part, "The individual was hired at Lehman College during this academic year, and was a part-time, online instructor this semester. We are taking the appropriate steps to terminate the individual's employment."
Brooklyn College told News 12 that Lamparello was a Ph.D. student at the CUNY graduate center and was assigned to teach a course at the school. He was not employed by the college.
Investigators who reviewed surveillance video say Lamparello's van was seen circling the block around 6:30 p.m. He then exits the vehicle, then returned around 7:55 p.m.
At that point, investigators say he took out two cans of gasoline, two containers of lighter fluid and a bag containing lighters. He entered the church around 7:56 p.m.
Archbishop of New York Timothy Cardinal Dolan says he was confronted quickly and internal security alerted the Counterterrorism Bureau's Critical Response Command.
"This obviously is one of the more tragic results of the climate of fear, terrorism and violence we have today. That the places most sacred, that are sanctuaries where people should be most safe and secure have been violated.  People of violence or disturbed people realize that," says Archbishop of New York Timothy Cardinal Dolan.
Lamparello claims he was trying to locate his vehicle and that it was out of gas, and that's why he had the gas cans. Authorities say the story didn't add up. His van wasn't out of gas and he was taken into custody.
Lamparello was also arrested in Newark, New Jersey, in the Sacred Heart Cathedral on Monday. The Essex County Sherriff's Department says he refused to leave when the cathedral was closing, resisted arrest and got into a physical altercation with two deputy sheriffs.
Investigators also revealed that before coming to New York City Wednesday, he booked a flight to Italy for $2,800. He would have left Thursday evening.