'No New Jails' group holds community meeting on borough-based jails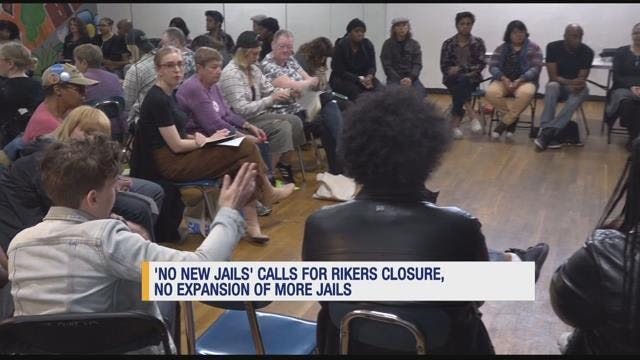 A group of activists and community members gathered in Hunts Point Sunday to discuss Mayor Bill de Blasio's jail expansion plans.
The group, called No New Jails, is a network of members calling for Rikers Island to close immediately without building more jails throughout the city. The mayor has publicly said Rikers will close in 2027 and the city will build four borough-based jails in the Bronx, Manhattan, Queens and Brooklyn.
The group held a discussion Sunday at The Point, where a panel and the audience shared their personal experiences. They believe the estimated $12 billion plan should instead go toward items they say are needed in their communities, like affordable housing, schools with more resources like counselors and therapists, plus living-wage jobs and social services.
"My hope is that more people engage in the process and are able to unite to really stop the building of these new jails and to demand the closure of Rikers immediately," says Nathalia Gibbs, an organizer with No New Jails. "And even beyond that, because if we do get the closure of Rikers, if we do get the closure of these four borough-based jails, that we take a hard look at our society at how we're criminalizing people."
Community Board 1 has until May to submit recommendations on the jail plan to the city's Planning Commission.
No New Jails is urging residents to testify and support its advocacy letter at the next community board meeting.