Ocasio-Cortez urges community to work with her at Bronx inauguration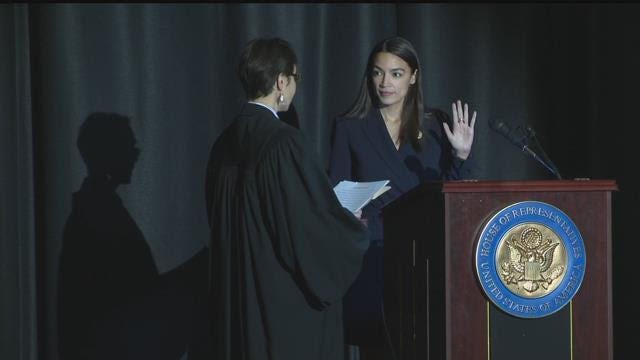 Rep. Alexandria Ocasio-Cortez was ceremonially sworn in Saturday in the Bronx with support from other local leaders, and she urged the community to have a relationship with her office.
It was a packed house at Renaissance School for Musical Theater and Technology as Ocasio-Cortez swore to support and defend the Constitution.
She asked the crowd to do three things: to be brave, to work alongside her and to have a relationship with her office. She reiterated that she wants people to reach out to her office so she can work with the community.
She spoke about the government shutdown and looked ahead to the Green New Deal, proposed legislation to fight climate change.
Among the community officials in attendance were Bronx Borough President Ruben Diaz Jr. and state Sen. Alessandra Biaggi, who noted that she and Ocasio-Cortez both beat "very powerful men " despite having been told it was not possible to obtain their seats.
Ocasio-Cortez officially took the oath of office in January, but held the hometown event today.
And the congresswoman is also holding a mural contest, with artwork by the winner to be featured in her district office. Artists need to send submissions to
ny14mural@mail.house.gov
by the deadline, which is March 11.