Parkchester high school receives Amazon-funded computer science program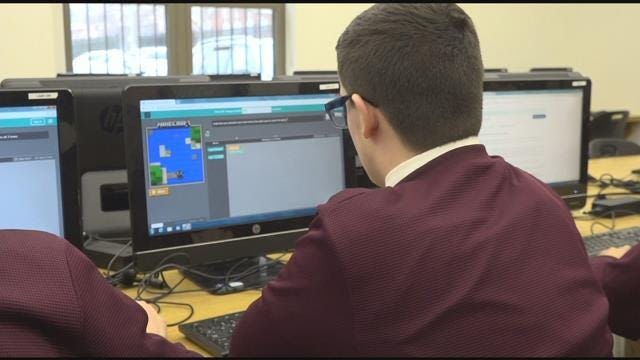 A high school in the Bronx is one of over 100 New York City high schools getting a free program from Amazon that will fully fund computer science education.
St. Raymond High School for Boys already has an introductory computer class, but Amazon's program will expand it.
Ryan, a freshman at St. Raymond High School for Boys, says he's always wanted to create his own video game. To do that, computer science skills are needed and after hearing about the new program coming to his school called "Amazon Future Engineer," it will soon become a reality for him. 

"I said, 'you know what? If that's what I want to do when I get older, that's what I should look into while I'm here.' It does seem to open a lot of paths later, so I feel like it's definitely a great start and it just makes me really excited for it," says Ryan.

The company is making it available to schools in underserved and low-income communities, so students can pursue computer science careers.
It will include criteria for an advanced placement, or A.P., class, which is a college-level class giving the student college credits. 

"We really don't have the resources currently to really offer the A.P. classes and the programs that we want and that's why this is such a great opportunity because Amazon's going to give us the ability to do that for our students," says Assistant Principal Jeffrey Sidoti.

The students do not need any coding experience to take the class. 

"I think it's less threatening for a student to take this course because they don't have to have the background," says Virginia Meller, chairperson of computer and business.