'Scaling up fast': Mayor says 10 COVID-19 community testing sites opening across city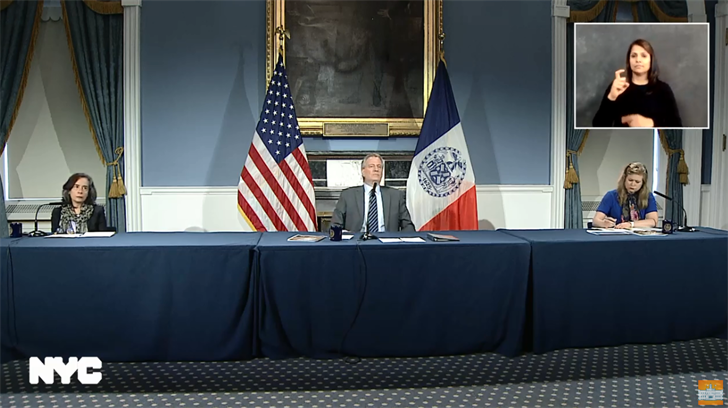 Mayor Bill de Blasio gave an update Friday morning on the COVID-19 pandemic in New York City.
BRIEFING NOTES:
-The mayor says everyone wants to know when the crisis will be over. He commended New Yorkers for doing "amazing things" to keep the sense of community alive during the pandemic. 
-"Everyone wants our freedom back, we all want our lives back... The question is always, 'when, when, when?'" The mayor says he will "move heaven and earth" to get the city there, but says there are steps that must be taken first, and that starts with continuing the measures already in place. "We have to be smart about what we do next to get back to normal."
-The mayor says we must be careful not to go too fast and create a "boomerang effect" where the virus comes back.
-There is no way to get back to normal without a huge amount of testing on a citywide level. "Undoubtedly we need a lot of help from the federal government to get that done," he says, to get the testing on the scale necessary.
-The mayor says test sites are opening in some of the hardest-hit communities, including in Morrisania in The Bronx and East New York in Brooklyn. Those sites are opening today at H+H locations.
-Additional sites will open Monday in Harlem and Jamaica, Queens.
-"This is about focusing on people with pre-existing conditions who are 65 and older" who live in the affected communities. The sites will be walk-in, but people need to cal 311 first to be told when to come on.
-There will be 2,400 tests initially across those sites per week, but the mayor says that number will "ramp up" quickly.
-The mayor reminds New Yorkers that negative test results doesn't mean that you don't need to continue to take precautions in the weeks ahead.
-The mayor says hotel rooms will be provided for free for people who test positive and cannot safely quarantine from fellow residents in their home.
-The mayor announced that five additional testing sites -- with one in each borough -- will be opening beginning today and Monday for front-line health care workers who are members of 1199 SEIU health care worker unions, plus people who care for those with disabilities and who work in adult care facilities. "You are among the unsung heroes of this crisis," the mayor says, adding that they deserve the opportunity to get the testing they need.
-The mayor says a lot of the city's best-loved events, including festivals, parades, block parties and others -- "go against everything we have to do to fight the coronavirus." He says that while the city will temporarily need to let them go, those events "will be back." Events that were permitted through April were previously canceled, but now events permitted through May will be canceled as well, de Blasio says.
-Summer Stage in Central Park, the Brooklyn Half-Marathon and other such special events will be canceled. Permits for medical sites and hygiene stations, and food such as farmers markets will continue to be approved.
-"We got a lot to get done to be safe for June," de Blasio says, adding that the city is talking to organizers of June planned events to determine whether it makes sense to have it or not. He said he'd come back soon with an update.
-The mayor addressed some concerns with the 311 system which he says is seeing an "exponentially" increased volume of calls from New Yorkers during the crisis. He says the city is taking steps to make sure COVID-related calls are prioritized.
-De Blasio gave updates on the city's hospitalization and new cases. He says most of the data is going in the right direction, crediting New Yorker's adherence to aggressive social distancing.
PHOTOS: Countries around the world cope with COVID-19