These stores have set special hours to help protect at-risk and senior shoppers from COVID-19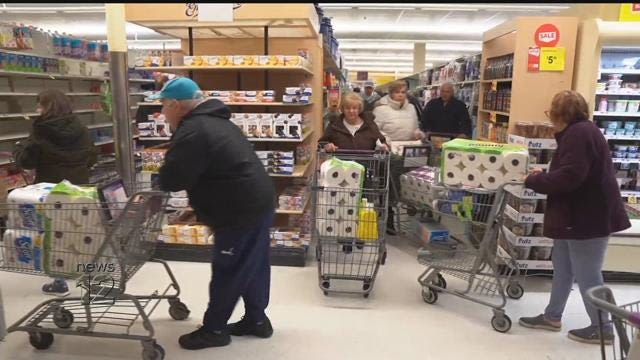 As the coronavirus pandemic spreads, some stores have designated special times for at-risk and senior shoppers to get all the items on their lists. Shoppers should check with their locations before heading out for any changes or updates.


BJs Wholesale Clubs:
All BJ's Wholesale Club locations are opening one hour early beginning Sunday, March 22, for members who are age 60 and over to shop in a less crowded environment. People ages 60 and up can use a designated entrance, from 8 a.m.-9 a.m. daily at clubs. Club Team Members reserve the right to ask members to leave if they are not a member of this age group.
More Information
Dollar General:

Vulnerable shoppers will have the ability to shop during the first hour that Dollar General stores are open to avoid busier and more crowded shopping periods. Other customers are strongly encouraged to plan their shopping accordingly to help support at-risk customers.
More Information
Stew Leonard's:
Stew Leonard's will open one hour early each day to allow seniors and those with vulnerable immune systems to shop in a less crowded environment. Shoppers who are under 60 or in good health are asked to please wait until regular store opening times before coming to shop at Stew's.
More Information
Stop & Shop:
All Stop & Shop stores will open early to service its most vulnerable customers from 6:00 a.m. – 7:30 a.m. daily. During those hours, customers who are age 60 and over as well as customers who may have weakened immune systems and are more susceptible to COVID-19 are welcome to complete their shopping.
More Information
Target:
Beginning March 18, Target is reserving the first hour of shopping every Wednesday for its most vulnerable guests, including those over 65 years old, pregnant women or those defined by the Centers for Disease Control and Prevention (CDC) as vulnerable or at-risk.
More Information
Uncle Guiseppe's Marketplace:
An early shopping hour from 7 a.m. to 8 a.m. will be reserved for seniors and for those most at-risk. For the safety of customers, the store asks that all other shoppers visit their stores at later times.
More Information
Walgreens:

Every Tuesday beginning this week, Walgreens stores will dedicate the 8 a.m. to 9 a.m. hour for senior citizens and their caretakers. Stores are also offering their senior day discount all day on Tuesdays.
More Information

Walmart:

From March 24 through April 28, Walmart stores will host an hourlong senior shopping event every Tuesday for customers aged 60 and older. This will start one hour before the store opens. The stores' Pharmacies and Vision Centers will also be open during this time.
More Information
Whole Foods:
All Whole Foods Market stores will service customers who are 60+ years old one hour before opening the store to the general public. Check your store's hours for exact opening time.
More Information