Video shows Jacobi officers surrounding, berating man in ER waiting area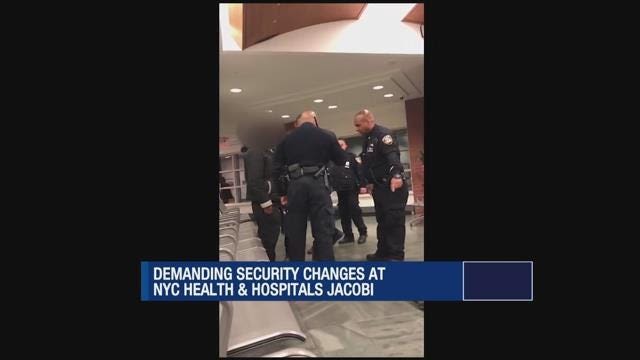 Demands to change security protocol at NYC Health + Hospitals/Jacobi have emerged over video showing a group of hospital officers ganging up on a man in the emergency room.
News 12 obtained the video depicting at least seven officers who are not NYPD surrounding a man who was sitting Thursday night.
Bharati Kemraj was also in the ER waiting area with her brother. She says the man was quietly drinking coffee, went up to the nurses a few times and eventually took off his shoes as they all waited at least two hours.
Kemraj says one officer used his baton and hit the man before calling for backup. She says that officer was demanding to know if the man had been registered or not.
"In a matter of minutes it became serious to the point where more individuals were needed for one individual who didn't seem to be unstable, who wasn't yelling, just wasn't reacting, wasn't using any bad language," says Kemraj.
Another officer could been seen hitting a wall, bending down and shouting in the man's face, before dragging him out.
Assemblywoman Nathalia Fernandez was shocked by the video and immediately reached out to the captain of the 49th Precinct to make them aware, even those they weren't NYPD officers. She also alerted the CEO of the hospital.
"We discussed expanding training on how better to approach and treat patients in the hospital, and to better address any issues in emergency rooms," says Fernandez.
Hospital officials say one of the officers in the video has already been suspended, pending review, and more officers may face discipline. 
A source also says officials are trying to figure out who the man in the video is, and if he is still trying to seek medical care.