NYC to assist community-based health clinics in hardest hit neighborhoods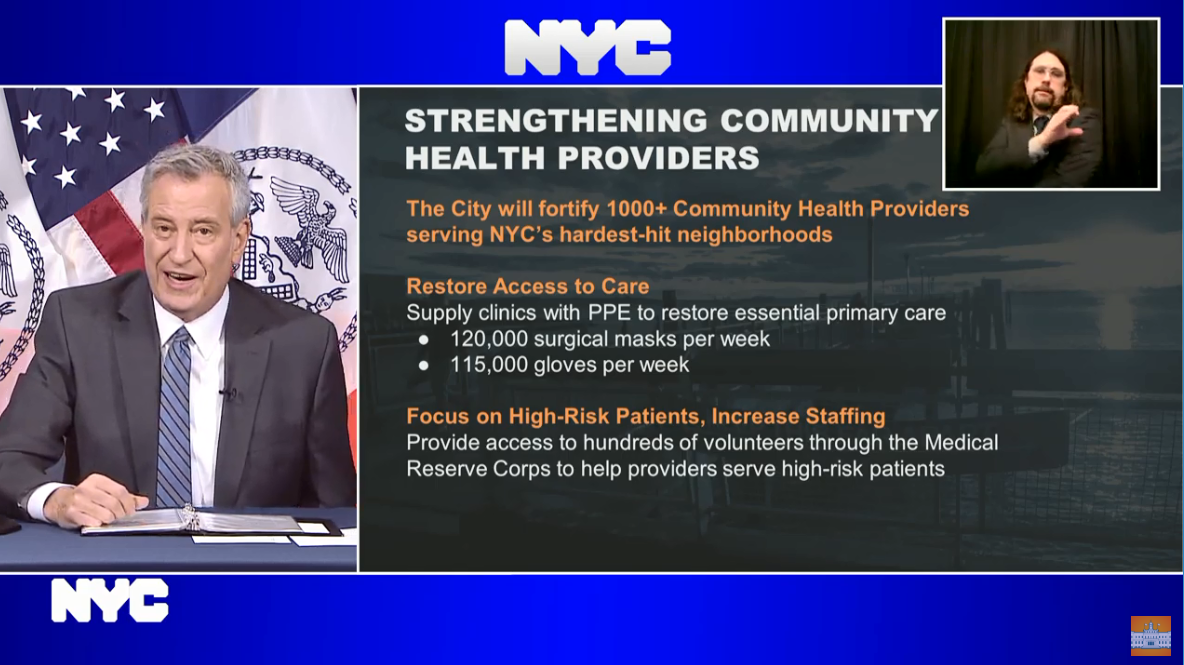 Mayor Bill de Blasio announced Monday that New York City will be doing more to support community-based health care providers.
He says for so many, community clinics are the trusted and most dependable health care facilities. The mayor says community clinics have taken several hits during the coronavirus pandemic, especially financially.
The city will be working with more than 1,000 community health providers serving 26 of New York City's hardest hit neighborhoods.
New York City will be restoring access to care, including essential primary care. The mayor says 120,000 surgical masks per week and 115,000 gloves per week will be restored.
There will also be a focus on high-risk patients and staffing increases. The city will aim to expand tele-health services at 150 community providers and host weekly webinars.
The city will also partner with providers to expand and implement Test and Trace testing and enlist more to refer patients to isolation hotels.
There will also be assistance with federal aid.
Community health providers receiving help will be Flatbush, East Flatbush, Brownsville, Brighton Beach, Flatlands, Canarsie, East New York, Starett City, Sunset Park, Bushwick and Bed-Stuy. In the Bronx it will be Crotona, Tremont, Highbridge, Mott Haven, Morrisania, Bronx Park, Van Cortlandt Park, Fordham, Northeast Bronx, Pelham, Throgs Neck, Riverdale, Soundview, Longwood and Hunts Point as well as others in Manhattan, Queens and Staten Island.
He also announced new approaches to help small businesses during the coronavirus pandemic.
The mayor appointed Gregg Bishop to senior advisor for Small Business COVID-19 Recovery. He says Bishop will work to bring in support for local small businesses and provide resources for many to get back on their feet. Jonnel Doris will also be brought on as commissioner of Small Business Services.
The effort to protect the homeless has also continued as the mayor says 8,000 single adults, nearly half of adult single shelter population, are now in hotel rooms.
The mayor says New York City will continue to shelter 1,000 more as it moves toward wider-scale testing in shelters.
On Sunday night, 261 people were engaged and 139 of them accepted services. The mayor says 116 were taken to shelters and 23 were taken to the hospital.
Alternative Side Parking will continue to be suspended through May 17. However, Alternate Side Parking will resume the week of May 18-24 for a "clean sweep" citywide.
Suspension of Alternate Side Parking will occur again for two weeks after May 25 through June 7, during which DSNY will reassess cleanliness.