Mayor outlines Phase 1 reopening plan for NYC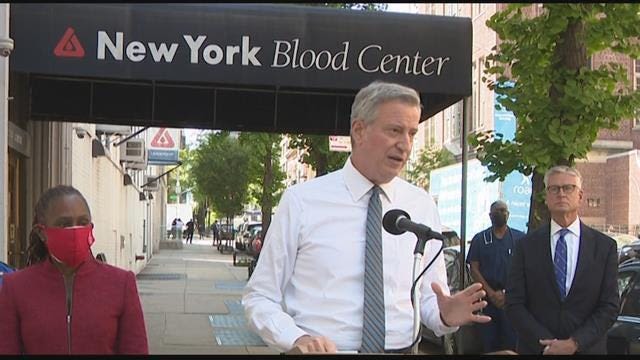 Mayor Bill de Blasio outlined what the first phase of reopening will look like for New York City.
He said phase one will include construction, manufacturing, wholesale suppliers and non-essential retail.
Construction sector examples include residential and nonresidential, building contractors, land subdivision and utility systems.
Manufacturing examples include apparel, electronics, furniture, machinery, printing and textiles.
Wholesale sector examples include apparel and piece goods, chemical products, household appliances, electronics, machinery and meats.
Non-essential retail will include curbside and in-store pick up only, and examples include clothing, electronics and appliances, furniture and home furnishings, office supplies and sporting goods.
The mayor said the estimated range of workers returning to work is between 200,000 and 400,000. The estimate is based on analysis of April 2020 employment in affected industries, recent layoffs and proportion of workforce working from home.
The basic rules for all sectors will include an emphasis on social distancing. All sectors require six feet of distance, unless safety or core function of the work requires less. Occupancy should also be under 50% and confined spaces, like elevators and behind registers, should be limited to one person.
There should also be a limit to all in-person gatherings and meetings, and hold them in large, well-ventilated areas with social distancing.
Employees should also be provided with free face coverings and proper protective equipment. Face masks should be made required if employees cannot keep six feet of distance apart.
Sectors should ensure frequent cleaning and disinfecting of any shared spaces. They should implement mandatory health screenings for employees, such as questionnaires and temperature checks.
Distance markers should be created, and signage posted throughout the workspace, reminding personnel to adhere to phase one guidance and rules.
The city will require phase one businesses to post reopening safety plans in the workplace.
Department of Buildings, Department of Consumer and Worker Protection and Small Business Services will educate, conduct outreach and support all business.
They will train small business advocates and compliance advisors.
Next week the groups will publish plain language industry guides and launch dedicated Business Restart Outreach Hotline and launch a dedicated Business Restart Hotline.
DCWP, FDNY and DSNY will conduct random visits to reopening sites to ensure compliance.
The groups will review reopening safety plans and provide guidance and support on best practices and applicable regulations.
They will also issue summons only in egregious circumstances or repeat violations.
Complaints should be coordinated by the Office of Special Enforcement with the NYPD, sheriff and other relevant agencies for appropriate action.
The mayor also discussed protecting the homeless. He says more than 1,700 individuals have accepted services since May 4. This includes 506 who accepted placement in shelters, and 281 who remain in shelters.
He says there have been 432 total referrals to hospital care, with an average of 23 referrals per night.