Mayor says more testing sites, PPE and social distancing enforcements on the way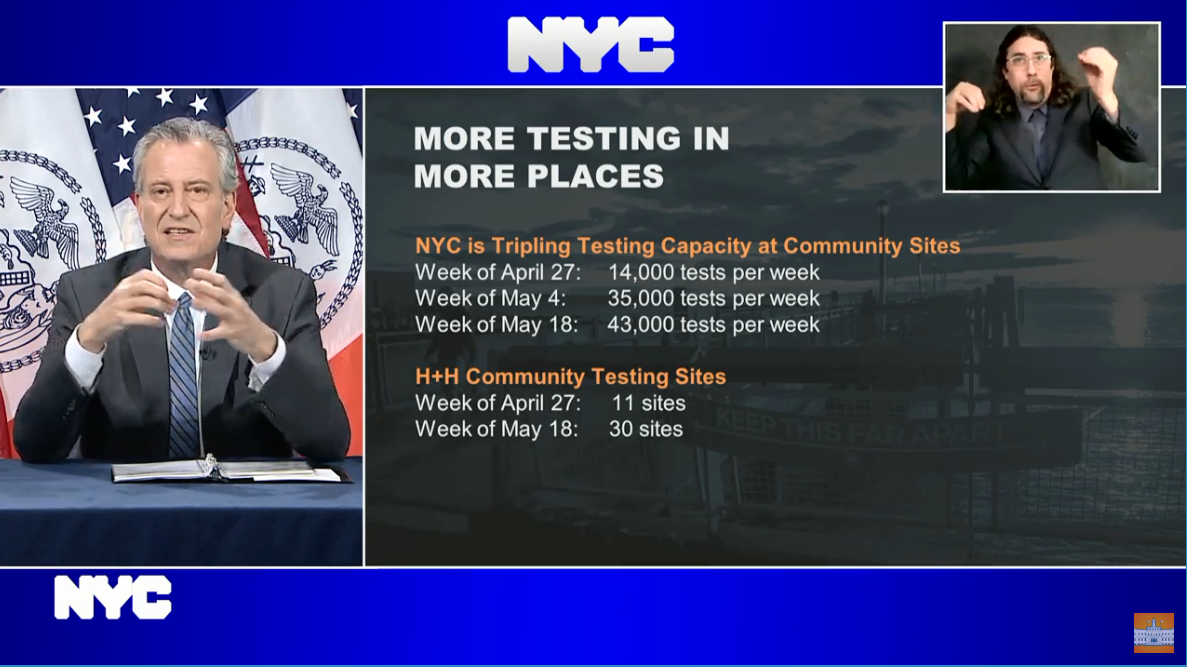 Mayor Bill de Blasio says 1 million gowns are in transit from Vietnam to New York City.
He says 900,000 more gowns are also being loaded onto planes in Vietnam bound for the city, as well as 3 million more gowns that are now in production for the city.
With incoming deliveries and local production, New York City will be sufficient in gowns at crisis standard until mid-May, according to the mayor.
In addition to PPE, testing has also increased across the city and will continue to increase.
The mayor says there are three NYCHA testing sites now open in Williamsburg, Woodside and Harlem.
There are also two new NYC Health + Hospitals testing sites opening this weekend at the Ida G Israel Clinic in Coney Island and Dyckman-Clinica de Las Americas in Inwood. Next week, all 11 NYC Health + Hospitals will open for community testing.
According to the mayor, the city will triple testing capacity at community sites. He said in the week of April 27 a projected 14,000 tests were administered. He also says that a projected 35,000 tests will be administered during the week of May 4 and another 43,000 during the week of May 18.
NYC Health + Hospitals will also increase community testing sites from 11 sites to 30 sites come the week of May 18.
The city will also start promoting face coverings in public spaces. The city will distribute face coverings in parks, free of charge, starting this week with 100,000 face coverings available. The city will focus on hard-hit communities and high-traffic parks.
There will also be more done to enforce social distancing. The city will be assigning 1,000 workers to patrol parks and public spaces dedicated to proactive social distance enforcement and education. Workers will be from the Parks Department, Office of Special Enforcement, Sheriff's Office, FDNY, DEP and DSNY.
The workers will also distribute 275,000 face coverings across the city starting this week.
Citi Bike is also expanding to help workers on the front lines in the Bronx and Manhattan.
Citi Bike says 100 plus new stations, including those serving essential workers at Lincoln Hospital and Harlem Hospital, will be set up.
Citi and Mastercard also extended a free one-year membership for essential workers.
The mayor also thanked American Eagle for donating 175,000 surgical masks, the NBA for donating 35,000 masks and the Consulate of Egypt for donating 200,000 masks and 5,000 gowns.
He also thanked AT&T for donating $100,000 to the Food and Heroes Initiative, Fresh Cosmetics for donating $200,000 worth of soap, moisturizers and cleaners for hospitals and DHS and Facebook for launching $6.5 million grant program for New York City small businesses.