Ydanis Rodriguez - United for Immigrants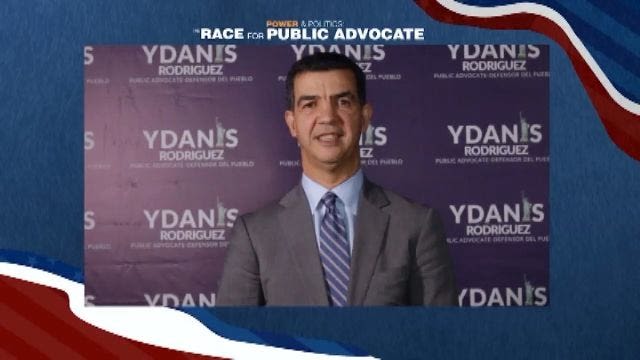 1. What would be your top priority as NYC Public Advocate?
My top priority would be fighting for a more equitable New York where all of our rights are respected regardless of immigration status, race, gender identity, sexuality or ability; every child receives a high quality education to make them competitive professionals regardless of their zip code; our population is fully counted in the 2020 Census; everyone can afford to ride the subway; more New Yorkers are able to vote; and more affordable housing is created and preserved.
2. How did you choose your party name?
United for Immigrants came from the inescapable truth that this city continues to be physically and culturally shaped by immigrants of all races despite the denials by few who continually use racist arguments against people of color to deny their own immigrant history and are driven by unfounded fear. It is an affirmation that our diversity is the source of our strength.
3. What do you love about living in New York City?
To me, New York City is the land of opportunity. My parents and many of my siblings moved to the city when I was 18 years old. I arrived speaking no English ready to wash dishes in restaurants and drive a taxi to make a living. I, later, earned a bachelor's degree in political science at City College of New York, taught in New York public schools for 13 years, co-founded two public schools, and was elected to the New York City Council where I am now serving in my third term. I love New York City because my story could only take place in New York City. I'm inspired every day by the hardworking, entrepreneurial spirit of every New Yorker and I'm committed to making sure this story of opportunity is not unique to me.
4. What's your least favorite thing about living in New York City?
The MTA.
5. What was your biggest challenge in school?
(Question not answered)
6. How do we fix public transit?
Create new sources of lockboxed funding, increase transparency in spending and bidding process, and focus on maintenance and repair.
7. If you could have dinner with any celebrity dead or alive, who would it be & why?
Juan Rodriguez. He is the first non-Native American to live in New York City predating the Dutch. He also considered the first immigrant, the first person of African heritage, the first person of European heritage, the first merchant, the first Latino, and the first Dominican to settle in Manhattan.
8. What needs to be done to improve conditions at NYCHA complexes?
We need to be honest and transparent about the dire conditions at NYCHA developments, and create a bold action plan. This crisis is a build up of neglect over many of administrations and this moment must be when we say enough is enough and own the restoration of public housing where people can live with dignity.We must focus on attacking immediate, urgent issues while simultaneously addressing cultural and organizational challenges that have created and exasperated this crisis.
9. Can you cook? What's your specialty?
Dominican Mangu
10. What inspired you to get involved in politics?
I have been an activist for over 40 years. My fight for justice, equity and opportunity for all led me to run for public office.
11. What's your favorite movie? TV show? App?
¿Qué Pasa, USA?
12. Any hidden talents?
(Question not answered)