Dawn Smalls - No More Delays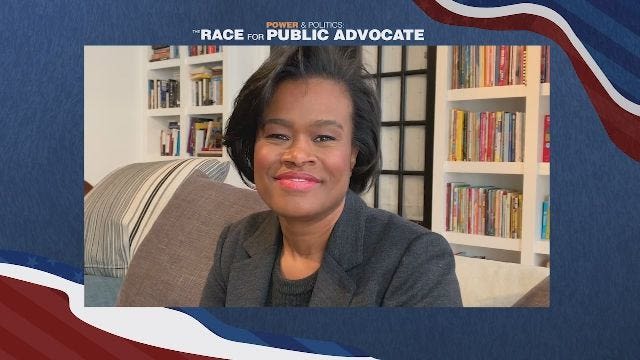 1. What would be your top priority as NYC Public Advocate?
My top priority as Public Advocate would be to protect and expand the affordable housing that so many New Yorkers rely on. This would include investigating management failures at NYCHA to ensure residents can get the repairs that they need; enforcing tenants' rights; and reframing the issue of homelessness to focus on the families and children who are homeless due to loss of housing - the main cause of homelessness in this city.
2. How did you choose your party name?
For too long New Yorkers have been stuck, waiting for our government to fix the problems with the services we need. I have a track record of breaking through the bureaucracy and I will achieve real results on the issues that matter to New Yorkers: the subway that is crumbling beneath our feet, housing that working families can not afford, and the alarming rates of homelessness among women and children. No More Delays!
3. What do you love about living in New York City?
I love the fact that we live in the most diverse city in the world. It's also home, a city in which I have deep roots. My mom was born and raised in Harlem and my brothers live in Brooklyn and the Bronx.
4. What's your least favorite thing about living in New York City?
I don't like that it's becoming harder and harder for the working class people and businesses that made this city great to continue to live and operate here.
5. What was your biggest challenge in school?
Public speaking! It's always been a struggle for me and it was a requirement at my high school. Even now, it is not my favorite thing to do!
6. How do we fix public transit?
For the last several years, New Yorkers have been left behind while the Mayor and Governor squabble about who is responsible for fixes to our public transportation system.
As Public Advocate I will work with any elected official or government executive who impacts the MTA, be it the Governor and State Legislature in Albany or government agencies in DC. As Public Advocate, I will demand accountability for accessible stations and ensure the Fast Forward plan is properly implemented and advocate for a real congestion pricing system."\
7. If you could have dinner with any celebrity dead or alive, who would it be & why?
Whitney Houston. I am a forever fan.
8. What needs to be done to improve conditions at NYCHA complexes?
What is happening at NYCHA is a five alarm emergency and we must aggressively seek solutions that will get repairs and reforms needed done NOW. I will hold NYCHA management accountable by demanding access to information about management and how tenant complaints are handled. A litigator, will not hesitate to sue NYCHA and the de Blasio administration I don't get the information I, on behalf of NYCHA residents, seek. I will also hold monthly NYCHA Town Halls to ensure that residents have a direct line to expressive concerns and issues with NYCHA management.
9. Can you cook? What's your specialty?
I like to bake. My son loves my cornbread from scratch. I also enjoy baking homemade muffins and cakes.
10. What inspired you to get involved in politics?
In a time when there is an unprecedented assault on our progressive values, we need more people to step up and run. I also believe we are living in a time where were you and what did you? I have been reflecting hard on my answer to that question and decided to run Public Advocate given the critical role it plays advocating for the communities that I care about most.
11. What's your favorite movie? TV show? App?
EVER? That's too hard. This past year, my favorites were RBG, Black Panther, and the Greatest Showman. For TV, right now I am really into the Marvelous Mrs. Maisel.
12. Any hidden talents?
It's been a while but I did competitive ballroom dancing in college.