Nets' Durant out at least 2 weeks with sprained right knee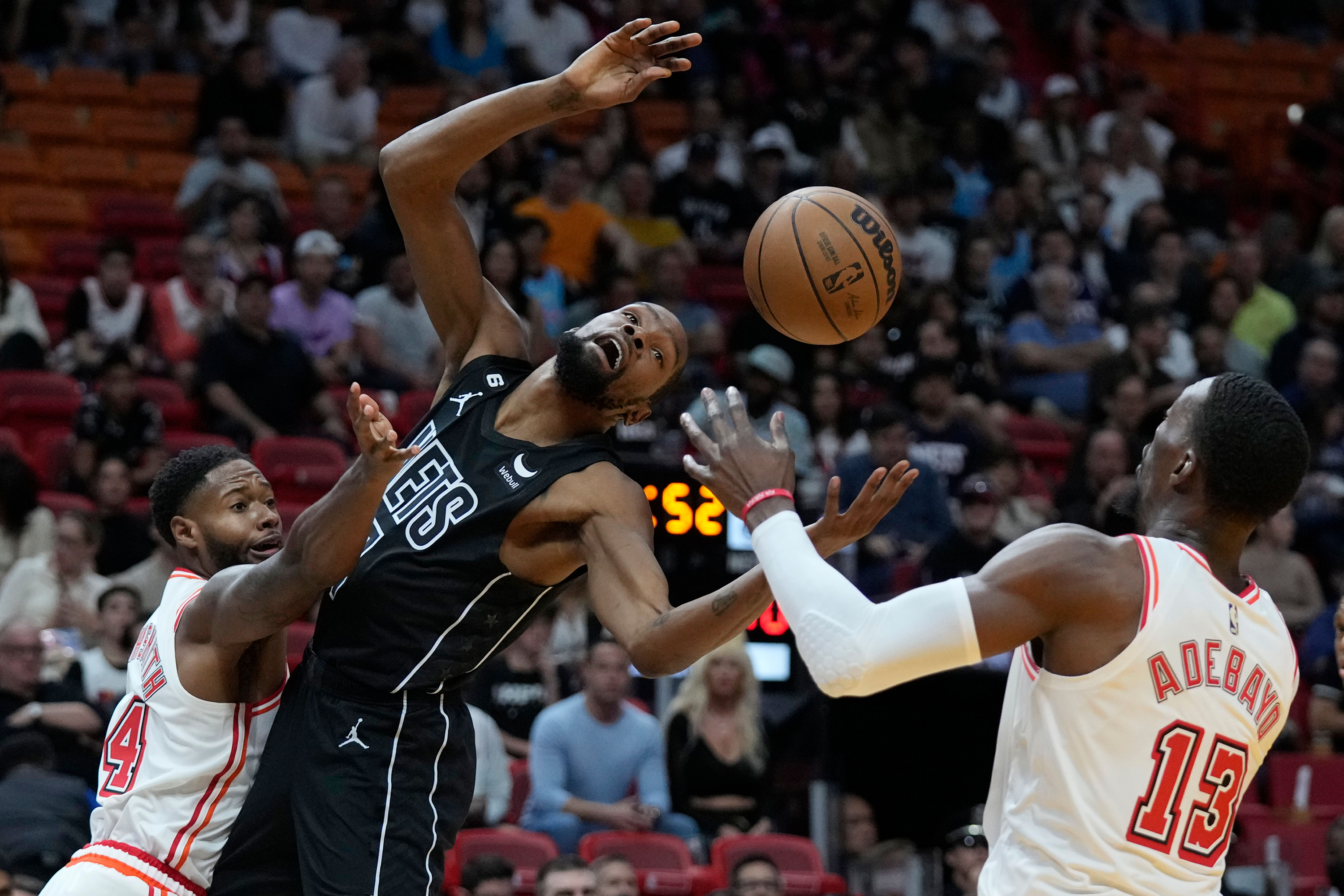 Kevin Durant has a sprained right knee and the Brooklyn Nets say he will miss at least two weeks.
Durant was hurt Sunday during the third quarter of the Nets' 102-101 victory in Miami after the Heat's Jimmy Butler fell into his knee. Durant grabbed at his knee and briefly remained in the game before asking to come out and going to the locker room.
He had an MRI on Monday that revealed an isolated sprain in his medial collateral ligament. The team said he would be re-evaluated in two weeks.
Durant has led the Nets to 18 wins in their last 20 games and a 27-13 record, a game behind Boston for the best record in the NBA.
He missed 21 games last season when he sprained his left MCL in January — also when a player fell into him — and the Nets fell apart. They went 5-16, tumbling down the standings, and their poor play without him contributed to Durant's disappointment with the franchise and trade request over the summer.
Durant eventually rescinded the request and has been playing some of the best basketball of his career this season. He is sixth in the league with 29.7 points per game and shooting a career-high 55.9% from the field. Durand passed Dominique Wilkins to move into 14th place on the NBA's career scoring list earlier in Sunday's game.
Now the Nets will hope to better withstand his absence, believing they are better balanced than last season under coach Jacque Vaughn.
"The strength of our team is us picking each other up and just being ready for whatever's thrown at us," teammate Kyrie Irving said after the game.
The Nets play again Thursday when they host Boston in a nationally televised showdown. If Durant can return soon after the next evaluation, he could be ready to play in the Feb. 19 All-Star Game in Salt Lake City. The current leading vote-getter among Eastern Conference frontcourt players had to miss the game because of injury last season.