Family files suit against Fieldston School, calling for end to discriminatory practices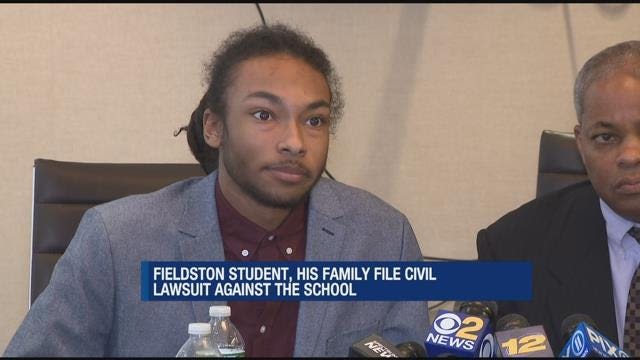 A student and his family are filing a civil lawsuit against the Fieldston School, calling for an end to what they say are racist and discriminatory practices.
The suit comes days after an agreement was reached with administrators and students who protested changes on campus.
 
A video shows an Ethical Culture Fieldston School student calling an African-American student a derogatory word. Malakai Hart, the student being called the name, was not present at the time the video was created.
He and his family filed a civil lawsuit against the school Monday.

There are a number of allegations in the 37-page complaint. The family is asking the court to do is stop discriminatory practices in Fieldston. They are also asking for monetary compensation for emotional damages, and they claim the school has not disciplined students who engage in this type of behavior.
Hart, now a senior, has been attending Fieldston since kindergarten. His father says instead of pulling his son from the school, they decided to not run away but fight.

They are also calling for the resignation or termination of Jessica Bagby, the head of school. The suit alleges that she and other administrators engaged in racial discrimination, retaliation, aiding and abetting unlawful practices and negligent hiring, training and supervision.

The school responded by saying, "One day we'll have a better understanding about why this particular lawyer finds it productive to file frivolous lawsuits against Fieldston, but for today we can say without reservation that this is meritless and does not reflect the truth about our school. Jessica Bagby is not going anywhere, and does not deserve to be blamed or scapegoated for whatever this family's concerns may be."

The suit comes after days of protests at the school when a different video surfaced of other students also engaging in racist and hateful behavior.

Hart will be attending Columbia University in the fall and is ready for a new chapter.

"I mean, it's still America, so I'm still nervous, but I'm excited to have at least a new challenge," he says.