NYPD says it's rolling out recommended changes to disciplinary system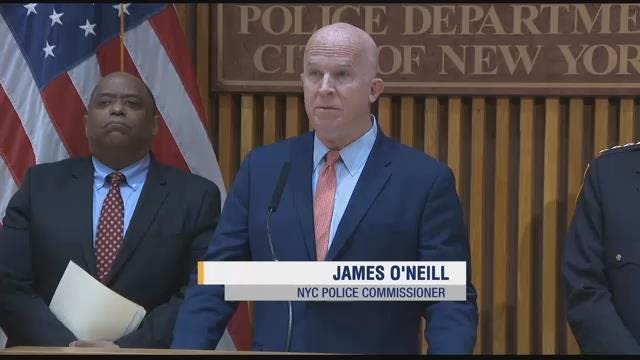 The NYPD says it's making progress in rolling out changes to its internal disciplinary system that were recommended by an independent panel earlier this year.
The department gave a 60-day update Monday on the 13 recommendations made to the NYPD back on Feb. 1 by the panel. Police Commissioner James O'Neill says all 13 recommendations were readily accepted because he says the department is always looking to improve.
Of the 13 suggestions, five short-term recommendations were implemented over the last two months, the NYPD says. Two centered on 50-A, a section of the New York civil rights law that prohibits the NYPD from releasing disciplinary records.
The first recommendation calls for supporting amendments to 50-A to increase transparency and enhance accountability. The NYPD agrees the law must be changed and proposes making public an officer's name, along with the charges, documents and outcomes after a decision has been made in the officer's disciplinary case.
The second asks the NYPD to guard against unwarranted expansion of the scope of 50-A, a reference in part to body cam footage requests being denied with 50-A used as a basis for those denials. Now, Freedom of Information Law requests can be used to ask for body cam footage.
Commissioner O'Neill says the NYPD continues to make progress in all areas, 60 days out from the panel's report.
"It's vital that we keep making our way forward, while always balancing it with the privacy and the safety of our police officers," the commissioner says. "All of this is an important step toward even greater transparency, and it is a crucial way to continue building trust and strengthening relationships across the city."
There was also an update on the department's discipline procedures for domestic violence. The NYPD says it will now enhance penalties, increase the use of dismissal probations and require mandatory counseling on a case-by-case basis.