Ron Kim - No Amazon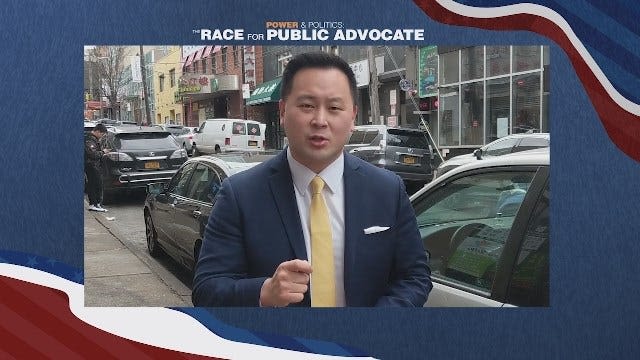 1. What would be your top priority as NYC Public Advocate?
For too long our elected officials have put the interests of corporations over people. Billions have of dollars have been given away in the name of economic development, meanwhile quality of life for our residents is crumbling. If we can free individuals of personal debt, we can free up seven years of economic activity for young families and small businesses. I want to end the practice of corporate subsidies and turn the Office of Public Advocate into the largest office in the country dedicated to buying and cancelling debt.
2. How did you choose your party name?
I initially chose the line 'People Over Corporations' but was required to change due to CFB rules. Instead I chose 'No Amazon.' I chose this line because the Amazon HQ2 Deal is part of a larger pattern by elected officials to put the needs of corporations before the needs of the people. I am running on the 'No Amazon'line because I believe we need to end corporate giveaways and invest in the people and communities of this great city.
3. What do you love about living in New York City?
I love New York City's diversity. There are so many unique and exciting cultures all within a short distance of each other. Not to mention all the great food that comes with that!
4. What's your least favorite thing about living in New York City?
That we've become a town more focused on courting big business instead of taking care of our neighbors. I'm tired of seeing crumbling infrastructure, failing schools and rising homelessness while millions of dollars are regularly given away to massive companies that don't it.
5. What was your biggest challenge in school?
Trying to balance my time between my studies and my athletic involvement.
6. How do we fix public transit?
We need make sure that the MTA is given the funds it desperately needs to speed up and improve our subways. We also need to make sure those funds are well spent. I believe we can stop giving billions away in the name of supposed economic development and instead invest those dollars in public transportation.
7. If you could have dinner with any celebrity dead or alive, who would it be & why?
Cool Hand Luke is one of my all-time favorite movies and I just recently watched it again, so right now I'd have to say Paul Newman. A brilliant actor and a charitable humanitarian.
8. What needs to be done to improve conditions at NYCHA complexes?
Increased transparency and oversight are important and should be part of any solution, but, at the end of the day, NYCHA needs sufficient funding. So long as we continue to give billions to mega-corporations, public programs like NYCHA will continue to be underfunded and underserved. We need to stop corporate giveaways and start investing more in our communities.
9. Can you cook? What's your specialty?
Not very well, but yes. My specialty? Kimchi fried rice.
10. What inspired you to get involved in politics?
As a teenager I witnessed my parents struggle as immigrants and small business owners. I saw them deal with bankruptcy and its effects for years. When I graduated college, I knew I wanted to give back and help the underserved in our city.
11. What's your favorite movie? TV show? App?
App: Parent Patrol. An app I helped develop to protect our playgrounds. Parent Patrol gives parents the tools to monitor unwelcome/unaccompanied adults in or around children's playgrounds.
12. Any hidden talents?
I was once the Flushing YMCA's bench press champ.